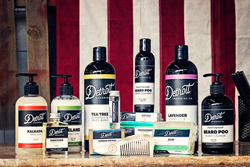 We use only the finest all natural and highest quality of ingredients to create unique scents for the refined tastes of the discerning gentleman.
Ferndale, MI (PRWEB) September 21, 2017
Detroit Grooming Company announced today that they are re-launching the company after being out of the market while they reorganized. Original co-founders, Michael Haddad and Shaun Walford stated that the company is returning to its roots with the type of high-quality products that it built its reputation on. Central to its re-launch is a redesign of the website http://www.detroitgrooming.com that showcases its products, and it is well organized and user friendly.
"We're really excited that we were able to make this happen," Michael said. "We were able to bring in new investors that allowed us to do this right. Our mission at Detroit Grooming Co. is to produce the finest in men's grooming products." Shaun added, "We use only the finest all-natural ingredients wherever possible to create unique scents for the refined tastes of the discerning gentleman. And we make all of our products in small, handmade batches to ensure that we reach the best possible quality for our customers."
New investors, Steve Henes and Victor Simon, are equally excited about becoming a part of Detroit Grooming Company's re-launch. "We were very familiar with the quality products Michael and Shaun had created so it was easy for us to see the bright future that lay ahead", Steve said. "Without question, Michael and Shaun understand men's grooming", Victor added, "It's very satisfying to not only help them succeed but to support a Detroit business."
About Detroit Grooming Company
Detroit Grooming Company is the best place to get handcrafted beard oils and men's grooming products. We offer beard oils, combs, beard butters, and a full line of men's haircare.
Detroit Grooming Co. is a product line for a man of the times. Any time. What began as a search for a superior product has resulted in a timeless and classic creation of our own. Our product line has expanded to include categories in shaving, personal care, creams and cleansers, and hair care. With an eye on quality and the environment, we promise to bring you the best available ingredients without further endangering rare flora or fauna, all the while giving a man what he deserves, a superb product.