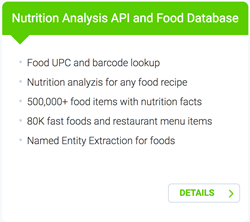 The Food Database provides nutrition information for over 500,000 foods
New York, NY (PRWEB) September 21, 2017
Edamam, a provider of nutrition data services to businesses in the food, health and wellness sectors, unveiled today a new Food Database, allowing developers of health apps, diet trackers and food companies to lookup the nutrition information of any food or common recipe.
The Food Database contains over 500,000 food items, including branded packaged foods, non-packaged grocery items, fast foods and restaurant meals, as well as common household recipes. The Food Database will be accessible as part of Edamam Nutrition Analysis API or as a licensed product.
Simultaneously, Edamam is launching powerful search functionality, using the company's proprietary natural language understanding technology to provide highly relevant results from the Food Database for any food item search.
"The Food Database product rounds up our portfolio of offerings, meeting the needs of many customers who need simply to be able to look up the nutrition of a single food item," explained Victor Penev, Edamam's CEO and Founder.
The Food Database is a companion product to Edamam's Recipe Analysis API, which allows customers to get in real time the nutrition for any recipe or ingredient list. The combined products allow business to build applications and tools for their customer to find the nutrition of most meals they eat.
"This is the penultimate step in providing end-to-end nutrition data service that allows people to track the nutrition of all their meals. The last step would be adding nutrition for all restaurant meals – something we are working on." added Victor Penev.
Edamam's Food Database has been available for some time to select beta customers. The current product launch makes it widely available to any business that needs to nutrition data.
About Edamam
Edamam organizes the world's food knowledge and provides nutrition data services and value-added solutions to health, wellness and food businesses. Using a proprietary semantic technology platform, it delivers real-time nutrition analysis and diet recommendations via APIs. Edamam's technology helps customers answer for their clients the perennial question: "What should I eat?"
Edamam's partners and clients include The New York Times, Epicurious, Nestle, Samsung, AARP and Random House.
For more information, please visit http://www.edamam.com or developer.edamam.com.
Media contact:
Victor Penev
victor(at)edamam(dot)com
+1.646.378.8317