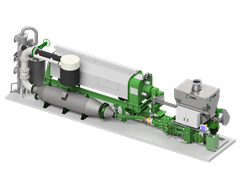 Somerset, WI (PRWEB) September 19, 2017
Schwing Bioset, Inc. is looking forward to exhibiting at the 2017 WEFTEC Event in Chicago on October 2-4. Please be sure to stop by our booth (#2007) while you're on the exhibit floor. We will be displaying a dewatering screw press, as well as two new pieces of equipment.
Our new Membrane Bioreactor (MBR) filtration systems for water and wastewater utilize hollow fiber membranes. The unique end-free cartridge design provides an economical alternative to traditional longer fibers.
We are also debuting our new SBI Solutions System. This pre-packaged system is configurable to produce either Class A or B Biosolids in a convenient, pre-engineered skid mounted unit. The system is a compact, modular unit including a piston pump combined with the Bioset process, and optional screw press dewatering capabilities for an all-in-one package.
The SBI team members attending the show include Executives, Regional Sales Managers, Aftermarket Support personnel, and more. If you'd like to meet with one of our team members, please email us and we'll put you in touch with the appropriate person.
Read about our Nutrient Removal and Struvite Harvesting, Dewatering Equipment, Piston Pumps, Bioset Process and Class A Biosolids, our new products, and other products here, and then stop by booth 2007 to learn more!
Visit the conference website to view the event details and exhibition map: http://www.weftec.org. Here is the Schwing Bioset listing for the show.
We hope to see you at WEFTEC 2017!
About Schwing Bioset
For more than 30 years, Schwing Bioset, Inc. has been helping wastewater treatment plants, mines, and industrial users by engineering solids handling solutions. Schwing Bioset's custom-engineered solutions can be found in over a thousand facilities across North America and around the world.
Our products include, among others, sludge, industrial, and tunnel piston pumps, screw presses, nutrient removal and management, membrane bioreactors, sliding frame and push floor silos, fluid bed drying products, Bioset process for Class A Biosolids, container wagons, and screw conveyors. We also offer on-site demos, spare parts and equipment maintenance services, and training.
For questions or more information, please contact Schwing Bioset at 715-247-3433 or marketing(at)schwingbioset(dot)com, or visit the website at http://www.schwingbioset.com.