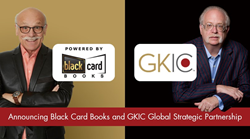 Chicago, IL (PRWEB) September 20, 2017
Glazer Kennedy Insider Circle (GKIC) and Black Card Books announced a strategic partnership set to deliver joint solutions designed to produce cutting-edge, market-tested, business and marketing mentorship, programs and products that enable small businesses worldwide to grow faster than ever before.
With the partnership, GKIC, the preeminent global community of Entrepreneurs, and Black Card Books, the fastest growing small business book publisher, will seamlessly connect to offer an entirely new level of publishing and marketing services across sales, service, marketing, commerce and more.
"For over three decades, Dan Kennedy and GKIC have been promoting the value of book publishing and magnetic marketing for entrepreneurs and business owners to catapult their success to the next level," says A.J. Mirabedini CEO of GKIC. "This global strategic partnership will allow both companies to help even more business owners."
GKIC and Black Card Books are heavily investing in its strategic alliance with new content, new products and amazing events to help clients rapidly deploy the marketing and publishing information products and mentorship services.
"This is an unprecedented partnership between two trailblazing gurus that have been in the marketing and publishing business for a combined 80 years," says JG Francoeur, CEO of Black Card Books. "Gerry Robert and Dan Kennedy together have trained and influenced over 5 million business owners to grow their businesses beyond what they thought possible and together, Black Card Books and GKIC will build an incredible community of entrepreneurs in 14+ countries."
On September 21, 2017, at 11 am, Dan Kennedy and Gerry Robert, for the first time ever, will come together in a live webcast to discuss how the companies working together can help entrepreneurs do more, be more and have more.
To register for the live webcast, you can sign up to Dan Kennedy's Magnetic Marketing Video Series and subsequently you will receive an invitation to the live webcast.
About GKIC
GKIC is a Renegade Entrepreneur Community providing a community of entrepreneurs and business experts with magnetic marketing, best practices and the pillars every small business needs to grow their business exponentially. For twenty years, GKIC has helped Renegade Entrepreneurs grow their business all over the world offering a save heaven for learning, practicing, experimenting, and launching new businesses, products and services. GKIC insider's circle is a small business community that provides tools, knowledge, software, training, and coaching to small business owners and their employees. Visit http://www.gkic.com for more information.