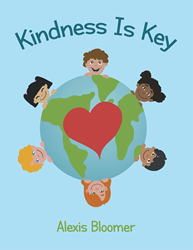 AUSTIN, Texas (PRWEB) September 19, 2017
Inspired by her personal experiences, Alexis Bloomer has created a children's book of rhymes that teaches respect, understanding, and acceptance of all people regardless of their differences in "Kindness is Key."
In her book, she teaches young children about bullying and what do if they are bullied or see somebody else being bullied.
"I believe now, more than ever, that the world needs a book that encourages acceptance and kindness," said Bloomer. "As a victim of bullying, I know that it can at times seem easier to give up or reciprocate the hate, but I'm hoping that my book instead, encourages children to not give in to the standards of the world."
"Kindness is Key" promotes self-love and teaches children to apply its principles in everyday life, proving that kindness still matters.
"Kindness is Key"
By Alexis Bloomer
ISBN: 9781480847934 (softcover); 9781480847941 (hardcover); 9781480847927 (eBook)
Available at the Archway Publishing Online Bookstore, Amazon, and Barnes & Noble
About the author
Alexis Bloomer is a journalist, entrepreneur, and first-time author. In 2011, as a college freshman, she used her experiences with being bullied to write a children's book about how to associate rhyming with kindness. Bloomer put away the book for six years before deciding to publish it. In a time when the world could use more kindness, she hopes her book inspires children to choose kindness to prevent bullying. To learn more, please visit http://www.alexisbloomer.net.
Review Copies & Interview Requests:
LAVIDGE – Phoenix
Bryan Beach
480-306-6554
bbeach(at)lavidge(dot)com
General Inquiries:
LAVIDGE – Phoenix
Chris Peña
480-306-7065
cpena(at)lavidge(dot)com