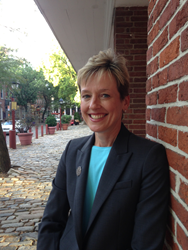 New York, NY (PRWEB) September 19, 2017
DeSola Group, a leading strategy, marketing and communications firm, announced today the addition of strategic marketing leader, Denise Flannery, to its strategic advisory and client development team.
In her new role as Strategic Marketing, Brand and Management Consultant, Denise will work with clients across different industries to develop and implement market-justified strategies, modernize and transform brands and cultures, and orchestrate marketing and communications to engage target markets and drive growth. In addition, her deep experience and expertise across financial services will add essential value and thought leadership to the firm's strong and respected expertise in the industry.
"We are thrilled to welcome Denise to the DeSola Group family," said Mike DeSola, Jr., Chief Executive Officer of DeSola Group. "Denise is an accomplished leader with a proven track record shaping brands, building marketing organizations, aligning cultures and driving growth. She has that unique ability to see both the big picture and finest data points, connect the moving parts and create and execute detailed action plans and align all traditional and digital marketing vehicles to engage stakeholders and ensure measurable results. She will be a tremendous asset to our clients and firm."
Denise brings over 30 years of leadership experience in strategic marketing, branding and communications. Prior to her new role, Denise held key positions in marketing, communications and branding at such companies as PNC, Penn Mutual and Brandywine Realty Trust. As an executive leader she led efforts to refine and modernize the brands, transform marketing and communications and its organization, helped to position products, build programs and introduce research, and position the companies for growth. Denise received a BS in Strategic Management from Penn State University and MBA in Finance from Saint Joseph's University.
"I am a big believer in building brands, cultures and organizations with purpose, authenticity and substance that lead to growth – which is exactly the belief of DeSola Group and what they helped me put into action when we worked together over several years and companies," said Denise Flannery. "I'm excited to join and look forward to the possibilities that lie ahead."
Denise will work out of both Philadelphia and New York City.
About DeSola Group
DeSola Group is a recognized leader in strategic management, brand and marketing consulting. The firm has delivered decades of industry-leading, award-winning results for Fortune 1000 and emerging companies across numerous industries, and continues to be best known by clients as the go-to partner to ensure strategic clarity, transform their brands and cultures, shape immersive experiences and unlock the complete value and growth potential of their businesses.