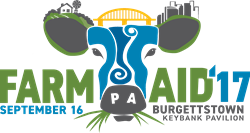 Streaming the event to YouTube enables Farm Aid supporters around the world to participate in the annual festival and amplifies the voice of family farmers everywhere, said Matt Glidden, Online Marketing Director of Farm Aid.
Pittsburgh, Pennsylvania (PRWEB) September 19, 2017
The Switch was the primary provider of Over-The-Top (OTT) services for the YouTube broadcast of "Farm Aid 2017," Farm Aid's annual benefit concert to raise awareness on the loss of family farms and to raise funds to keep farm families on the land. Headlined by artists and Farm Aid board members Willie Nelson, John Mellencamp, Neil Young and Dave Matthews among others, Farm Aid was first held in 1985 and to date has raised more than $50 Million.
Farm Aid 2017, which was held at the KeyBank Pavilion in Burgettstown, PA, relied on The Switch for both streaming and encoding of the event to YouTube. Also provided, Video-On-Demand (VOD) post-production services, which included sub-clipping of the concert to allow for both the artist's individual songs and playlists to be published on Farm Aid's YouTube channel.
Farm Aid 2017 was Farm Aid's 32nd edition of the all-day music and food festival. Tickets for the festival sold out within 24 hours and drew a crowd of 23,000 attendants.
About The Switch:
Beers Enterprises, LLC d/b/a The Switch is the leading video solutions service provider in North America. The Switch currently provides advanced video switching and local fiber circuit services, satellite services, scalable Ethernet, and "HomeRuns" remote production via its FiveNines Service across the United States, Canada, the United Kingdom, France, Switzerland, Singapore, Australia and New Zealand. The Switch was awarded a U.S. System Patent for customer controlled video data content delivery (U.S. Patent # 9306873). The Switch was awarded the 2013 New Bay Media Product Innovation Award for Switch-IT and the 2012 Broadcast Engineering Excellence Award for Network Automation. The Switch was created in 1991 to provide cost-effective, customer controlled television signal routing services to the broadcast industry. The Switch has been embraced by the marketplace since its inception and has grown to its current market leadership position.