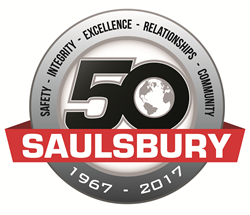 "Adding Mike to our team reinforces our commitment to the industry and Delivering the Nuclear Promise," said Rick Graves, Saulsbury's CEO.
Odessa, Texas (PRWEB) September 19, 2017
Saulsbury Industries announced today that nuclear industry veteran Michael S. McGough has joined Saulsbury as Chief Nuclear Officer (CNO) to lead its growing nuclear services business. Last month, Saulsbury announced a second contract extension in support of SCANA's V.C. Summer Unit 1 operating nuclear station. In that announcement, Jeff Archie, South Carolina Electric & Gas Company senior vice president and chief nuclear officer said, "We are very satisfied with the services Saulsbury Industries has provided V.C. Summer over the past three years as the maintenance and modifications contractor, including support during the two most recent refueling outages. We are pleased to extend our contract with Saulsbury through mid-2020."
McGough joins Saulsbury from NuScale Power where he served as chief commercial officer since 2011. He is a 38-year veteran of the commercial nuclear industry supporting construction, operations, maintenance and decommissioning of nuclear plants worldwide. Mike has been involved in new plant startups at Westinghouse, where he started his career, as well as at the Constellation Energy subsidiary UniStar Nuclear Energy. He has also been involved in dry storage of used nuclear fuel as senior vice president for NAC International and low level radioactive waste management and decommissioning at Duratek and Energy Solutions. Mike also served as president of PCI Energy Services where he spent 11 years responsible for mechanical projects including 16 steam generator replacements and 9 nuclear plant decommissioning projects.
"We are delighted to have Mike joining the Saulsbury team, bringing his depth of experience in the nuclear arena, to lead our efforts to continue to support this industry which is so vitally important to our country. Adding Mike to our team reinforces our commitment to the industry and Delivering the Nuclear Promise," said Rick Graves, Saulsbury's CEO.
Mike has been a member of the Nuclear Energy Institute's Strategic Issues Advisory Committee for the past 4 years and has provided over 100 technical, industry or public presentations and publications on numerous industry topics.
Maria Korsnick, CEO of the Nuclear Energy Institute stated: "Mike McGough has served the nuclear industry in many capacities over his lengthy career. I am pleased that his efforts to expand the awareness of the importance of our industry, and to foster improvement in performance and safety, will continue to grow in this new assignment."
McGough holds a Bachelor of Science in Physical Metallurgy from Washington State University, and an MBA from the Katz School of Business at the University of Pittsburgh. He is also a graduate of the Kellogg Management Institute at Northwestern University.
ABOUT SAULSBURY:
Celebrating its 50th anniversary in 2017, Saulsbury Industries is a privately owned Engineering, Procurement, Construction (EPC) firm, and is a full scope maintenance and modification services provider that serves clients in multiple industries, including fossil and nuclear generating stations, oil, gas, manufacturing, and petrochemical facilities.
Since entering the nuclear industry, Saulsbury has provided nuclear support in South Carolina, Alabama, Georgia, Louisiana, and California. Saulsbury's team has provided services in every commercial nuclear operating and decommissioned facility in the United States. Recognizing potential growth in servicing operating nuclear units through extended licenses of up to 80 years, supporting new plant construction including Small Modular Reactors and Advanced Reactors, and potentially supporting used fuel management scenarios as well as decommissioning of retired units, Saulsbury is now uniquely positioned to support these industry critical needs.