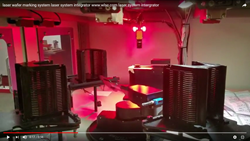 WLSC mission is to reduce costs, protect consumers and MFG's, provide green MFG process by use of laser automation
Gilbert Arizona 85233-2402 (PRWEB) September 20, 2017
Worldwide Laser Service Corporation [WLSC] (http://www.wlsc.com) announces a new laser automation for silicon wafer laser marking and handling the LP9000U_WAFER.
The laser system automation major features includes:

180 degree flipping of wafers allowing for front side and back side wafer laser marking
100mm, 150mm, and 300mm wafers can be handled and marked with these systems.
Vision verification system is included for recognition and verification of laser marking work
Options for manual or automated loading of wafer cassette [s]
Pre-aligners and vacuum controlled wafer laser marking chucks where required
Full GEMSECS and Semi Standard compliance and reporting
Latest Semi 87 standard compliance
Fully Semi Standard S2 - S8 compliance
Remote production system integration or stand along local operation available
Full wafer mapping and controls interface
For added details and information contact Worldwide Laser Service Corporation http://www.wlsc.com

LP9000U_Wafer System compatible with full light out clean room manufacturing environment
ABOUT WORLDWIDE LASER SERVICE CORPORATION:
Worldwide Laser Service Corporation [WLSC] was founded in Phoenix AZ July of 1986 and is currently head quartered in the Phoenix Metro area East Valley Gilbert AZ, WLSC has been providing laser automation and integrated laser systems for 31+ years, WLSC currently works with the major laser platforms of 355nm, 532nm, 10.6um [Co2] and 1064nm [Fiber-YAG]. WLSC designs, builds, installs and maintains integrated laser systems all over N. America and for customers in Costa Rica, and Peru. The mission of WLSC is to reduce manufacturing costs, protect consumers and products, and provide eco-friendly green manufacturing alternatives for industry through the use of laser automation.
Email: info(at)wlsc(dot)com
Phone: 480.892.8566 Option 4