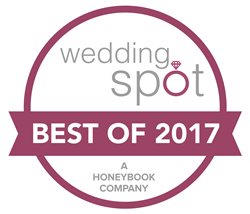 "Wedding Spot has helped over 7 million couples find their dream venue and over 13k venues to book more weddings. Words cannot explain the joy our team experiences knowing that we're simplifying the overwhelming venue search process with pricing transparency." -Wedding Spot General, Anya Benbarak
San Francisco, CA (PRWEB) September 19, 2017
Wedding Spot has officially announced their 2017 Wedding Spot Award winners, showcasing the top venues that couples choose when they search, price, and compare venues on Wedding Spot. Winners were chosen through popularity onsite as well as nominations from thousands of real couples.
Couples can browse these extraordinary venues by region, price out and compare side by side, and then easily book a free site tour on Wedding Spot.
Working directly with venues all across the US, Wedding Spot gathers all the venue information couples need to make a decision, allowing couples to find venues based on budget, location, style, and guest count. Unlike any other site, on Wedding Spot, users can "build out" their dream wedding by selecting guest count, wedding date, and specific service options to receive an instant, accurate, online price quote, their custom Spot Estimate™. Users can compare Spot Estimates™ side by side, and once decided, book a free site tour with the click of a button.
Wedding Spot is not only educating their users with pricing transparency, but also pre-qualifying leads for the venues they partner with. They are simplifying the process of connecting couples to wedding venues.
Launched in San Francisco, CA in August 2013 and currently partnering with venues in all 50 states, Wedding Spot has helped millions of couples find and book their dream wedding venue.
Check out the 2017 Wedding Spot Award winners and congratulate your local venue!