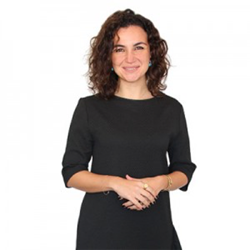 New York, NY (PRWEB) September 19, 2017
As part of the keynote speakers and special guests at their upcoming 10th annual conference, the International Women's Entrepreneurial Challenge (IWEC) announced that Her Royal Highness (HRH) Princess Noor Asem of Jordan will be the organization's Conference Chairwoman and keynote speaker, and Ms. Ibukun Awosika, Chairwoman of the Board of Directors of the First Bank of Nigeria Limited, will be a keynote speaker and the newest member of the organization's Board of Directors. The conference, titled 'Connecting Women Businesses Globally: Accelerating Growth Through Innovation & Technology' will be hosted at Microsoft global headquarters in Washington State on November 12-14, 2017.
This year marks the first time that IWEC names a Conference Chairwoman, welcoming HRH Princess Noor to the role and the organization. Beyond her royal duties, HRH Princess Noor is an executive and certified coach with the Coaching Training Institute, focusing her programs on empowering youth, and self-development. Her consulting and coaching work span from delivering mindfulness programs for teachers, leadership development across industries, and self-actualization programs for executives in the Middle East. "My life's mission is to play a catalyzing role in the global movement supporting the development of authentic and self-aware leaders who are co-creating a shared vision for the betterment of society and our collective evolution," she stated. HRH Princess Noor is also the Chapter President of MELA, a business network that brings together Arab leaders who together shape the future of the Middle East.
"Bringing HRH Princess Noor to IWEC gives us an unprecedented, first-hand look into the role of women's business development in the Middle East, an invaluable contribution to IWEC, and a tremendous learning opportunity for our audience," added Carmen Castillo, IWEC Chairwoman, and President and CEO of SDI International Corp.
Ibukun Awosika heads Nigeria's premier bank, and she is also the founder and CEO of the Chair Centre Group, an association of large companies in the manufacturing, retail, and financial security services. Ms. Awosika further holds seats in the corporate boards of Cadbury Nigeria, Digital Jewel Limited and the Convention on Business Integrity, and she is a former chair of several other enterprise boards.
"We are truly honored to welcome Ibukun as the newest member of our Board of Directors. She brings a wealth of knowledge about international business development, with degrees from IESE Business School, Wharton, and China International Business School, and an impressive career in the financial industry in Nigeria. More important, however, is her passion for women's entrepreneurship and social issues, and her work to engage companies to invest in creating jobs for unemployed youth in Nigeria. As a past IWEC award recipient, Ibukun embodies the drive and commitment, and a legacy empowering women's entrepreneurial efforts in Nigeria and worldwide that are vital to IWEC and to women's business development everywhere," said Ambassador Ruth A. Davis, Chairwoman at IWEC, former Director General of the U.S. Foreign Service and recipient of the 2016 Lifetime Achievement Award from the U.S. State Department.
Ms. Awosika will address the audience at IWEC on the issue of ethics in the new economy.
During the conference, HRH Princess Noor will offer welcome remarks, lead a segment on empowering women business owners in the Middle East and discussing their challenges and opportunities. Other conference speakers include one of the most influential businesswomen from China, Yang Lan, owner of Sun Media, one of the largest media conglomerates in that country; she was also the ambassador of the Beijing Olympic Games; Melanie Alavi Director of Customer Technology Marketing from UPS; Fernando Hernández, Director or Supplier Diversity at Microsoft, Peter Martínez, CEO of Game Changer Tec, Jackie Sturm, Sr. VP of Supply Chain and Innovation at Intel, Aylton de Souza, Worldwide Enterprise Mobility and Security Business Lead at Microsoft, and other key drivers of innovation, technology and business development.
IWEC is a New York-based international economic empowerment organization exclusively for women business owners, formed in 2007 with the assistance of the U.S. Department of State. In addition to the State Department, its founders include the Barcelona Chamber of Commerce, the Manhattan Chamber of Commerce (MCC), and FICCI/FLO Chamber in New Delhi. IWEC's mission is fourfold: to connect, support and educate women business owners and prepare them for global expansion. Every year, IWEC recognizes the breakthroughs, achievements and thought leadership of women business owners from across the globe through their award program. In 2016, they presented the IWEC award to 42 successful women entrepreneurs from 21 countries. This year, IWEC welcomes 53 new awardees from Africa, Asia, Europe, Australia and the Americas.
The companies that the current and past IWEC awardees lead account for over US$25 billion dollars in combined annual revenue, and employ over 125,000 people worldwide. During the conference, they engage other business women, chambers and past awardees for trade, networking and business opportunities. Attendance for the exclusive event is capped at 250 attendees. Learn more about the conference, or register at http://bit.ly/2poMbvS.
Contact IWEC: Nancy Ploeger, Executive Director, IWEC. np(at)iwecawards(dot)com (917) 796-4201.
Press Office: Andie Farris, CF Creative. marketing(at)cf-creative(dot)com. (954) 225-9342.