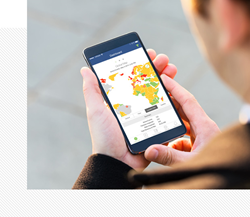 Milpitas, CA (PRWEB) September 19, 2017
Resilinc, the leading provider of end-to-end supply chain resiliency solutions, today announced the successful release of its next generation big-data platform. "WAVZ is our powerful big data platform that will foundationally transform Resilinc's ability to deliver machine learning and prescriptive risk optimization analytics through our platform," said Sumit Vakil, chief product officer and co-founder of Resilinc. "Innovation waves are arriving on an accelerated trajectory, and our new platform will allow us to harness the latest technologies quickly, to support our customers' evolving needs. It will also allow us to support on-premise as well as cloud applications of the Resilinc solution."
WAVZ enables supply chain experts to navigate supply chain risk with ease, greatly simplifying the complex and time-consuming tasks of consolidating information, activating enterprise networks, connecting relevant people and optimizing advanced analytics. "WAVZ combines the power of big data, artificial intelligence, and natural language processing with Resilinc's supply chain risk management expertise, allowing our customers to make the next leap in transforming their supply chains," said Pramod Akkarachittor, vice president of product management. "It allows Resilinc to harness the latest technologies for solving tomorrow's supply chain risk management challenges in the fastest, most efficient way possible."
Key Features of Resilinc WAVZ

Exciting new look: WAVZ will showcase a modern, touch-enabled user experience, beautiful supply chain visualizations and a user configurable solution experience.
Mobile App Architecture: WAVZ also sets the foundation for launching a range of single function mobile apps, leading with Resilinc's world class EventWatch app.
EventWatch App: All 15,000 plus Resilinc users will be able to leverage the EventWatch mobile app to monitor global events and coordinate response with each other across the Resilinc supplier network.
Comprehensive, Configurable Risk Profiles: Users will be able to develop risk profiles with an unlimited number of risk indices at the part, site, supplier and product level. Resilinc's content partners such as Rapid Ratings (financial scores), Verisk Maplecroft (location scores) and other key experts will be able to seamlessly offer their capabilities to customers.
Prescriptive Risk Playbooks: WAVZ also comes complete with a rules-based risk prioritization module and a mitigation playbook workflow module to allow a wide range of users to proactively prioritize and appropriately action the most critical risks.
Customers have embraced the new platform and expanded capabilities wholeheartedly, with each user having their own favorite new capability. "WAVZ allows our company to incorporate an in-depth risk scoring methodology into our operations. The endless varieties of risk indices that can be incorporated into WAVZ can help us customize a methodology that works for our business and roll it out across our organization," said Amy Mackie, Director, Supplier Quality at Thermo Fisher Scientific.
The Value, Tailored to User Needs
Resilinc WAVZ easily supports companies across the risk maturity spectrum.

Beginners, who want a simple event monitoring system, will find WAVZ quick to activate, simple to use and effective to grow with.
Intermediate users, who have begun their supply chain risk journey with event monitoring and mapping, who are looking for comprehensive risk quantification and prescriptive playbooks that they can leverage quickly, will find it easy to accomplish on WAVZ.
Mature Supply Chain Risk Management experts, who are looking to operationalize risk within their organization, will find WAVZ will support their hundreds of team members with role-based access to relevant functionality, and prescriptive playbooks that will automate action-taking based on predefined rules and workflows. Complex, matrixed and global teams will be able to implement uniform risk identification, quantification and mitigation practices across their organizations.
There's always something for Suppliers on Resilinc
Resilinc's solution is used by tens of thousands of Supplier Users across 135 countries.

Supplier Mobile App: With WAVZ, Resilinc offers suppliers their own mobile app free of charge. Suppliers can access Resilinc's EventWatch bulletins, see which customers are requesting impact confirmation and respond directly via the app itself. This will greatly accelerate the speed of collaboration between customers and suppliers during massive supply chain events such as Hurricane Harvey.
Efficient, Secure Data Sharing: Suppliers will be able to access all existing data they have shared on Resilinc, and leverage it across many customers, but also tailor responses customer by customer.
Direct Customer-Supplier Collaboration: WAVZ also connects suppliers and customers directly and allows them to message relevant users in each organization, to facilitate effective collaboration on their supply chain mapping, survey data collection and risk mitigation initiatives.
R Score: WAVZ sets the foundation for suppliers to seamlessly access and manage their R Score.
"As a special Thank You to suppliers who have supported Resilinc over the years, Resilinc will offer for free, our core product EventWatch, including EventWatch mobile app access, to all Supplier Users on WAVZ from October to December 2017," said Ranna Rose, vice president of operations. "Suppliers' whole-hearted participation and support of Resilinc's multi-tier visibility drive has been foundational to our success. Suppliers have already loaded the data we need to monitor events for them and we are delighted to offer them this chance to try out our world class event monitoring service."
Watch WAVZ in Action
Resilinc will be showcasing WAVZ during weekly webinars in September. Click here to view all Events by Resilinc: https://www.resilinc.com/events-webinars-2/
https://resilinc.webex.com/resilinc/onstage/g.php?MTID=e95a5b13953113f8d84133b94155b0b85
https://resilinc.webex.com/resilinc/onstage/g.php?MTID=e02823001b78072142bc0066390a0893d
https://resilinc.webex.com/resilinc/onstage/g.php?MTID=ed5790d466a5b86aa736541760246b9d4
About Resilinc
Resilinc is the trusted provider of supply chain risk and resiliency solutions. Resilinc provides a patented, digital, automated and networked platform to allow customers to collaborate seamlessly with their direct and sub-tier suppliers. With over 2 million parts tracked across 85,000 global sites and more than 70,000 sub-tier connections, Resilinc has digitized the supply chain experience. Resilinc's approval-based mapping solution enables customers and suppliers to exchange supply chain intelligence with each other securely, and accelerates the supply chain visibility journey, from years to weeks at a fraction of the cost. Resilinc EventWatch 24x7 solution monitors 30 different risk events in 44 languages and collects impact confirmations in real time from tens of thousands of users during an event, allowing customers to engage and resolve issues efficiently and with precision during disruptions. Resilinc's solution is transformative, in that it disrupts the traditional approach of throwing more resources at problems, and enables executives to harness the power of information and automation in to predict issues proactively and resolve them quickly.