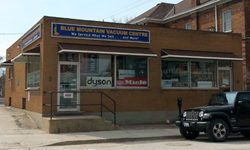 Toronto Ontario (PRWEB) September 20, 2017
Blue Mountain Vacuum Centre, a leading one stop shop for vacuum sales and service needs in Ontario, located Collingwood, announced today the launch of their dynamic new ecommerce website, http://www.bluemountainvacuum.ca. The company which takes pride in stocking a vast variety of residential vacuums, central vacuums, bags, filters, and belts is now able to virtually ship to any address in the world. Thanks to a variety of innovative features, the new ecommerce website is destined to become a vibrant online destination for buyers and their vacuum sales and service needs.
Blue Mountain Vacuum Center is a family-owned and operated sales and repair shop that has been in business since 1986. Meghan and Andrew Berofsky, owners stated, " Living here in the community of Blue Mountain, we have been dedicated to serving the needs of customers in Collingwood, Wasaga Beach, and The Town of Blue Mountains, but our customer service reputation has attracted customers from as far away as Owen Sound, Meaford, Clarksburg, Elmvale, Creemore, and Barrie. Now through the convenience of our on-line store, we are able to ship Canada-wide. We have trained service technicians who take pride in their work, and provide fast and economical repairs on as many vacuum models as we can, including central vacuum systems and commercial vacuums."
Additionally, the storefront features a plethora of products ranging from traditional upright vacuums and central vacuums, fans, belts, filters, deodorizers and cleaning supplies, as well as information on how to get a vacuum serviced at a Blue Mountain Vacuum Center location. A company spokesperson notes, "The Collingwood area has been calling Blue Mountain Vacuum Center their trusted central vacuum installer for over three decades. A central vacuum can make cleaning floors that much easier, and we are skilled in getting these installed into your home with little disruption to your family. Our wish is that people are satisfied with every installation, and that we can help people to clean with ease, avoiding extra hassle. No matter the installation need, we can help to provide complete installations, full rough-ins, completing a rough-in that has already been started, or even adding outlets throughout a home or building as needed."
Created with the user experience in mind, Blue Mountain Vacuum Centre's new eCommerce website provides their users with blogs, helpful vacuum cleaner reviews, pictures of the available products, as well as quick access to product information. Blue Mountain Vacuum Centre's new ecommerce website is also a good way for people to browse the website anytime, anywhere, and on any device to learn about the company's top performing brands of central vacuums or commercial and stand-alone models.
The new eCommerce website is expected to help improve Blue Mountain Vacuum Centre's brand, and will allow the company to assist people outside of their Collingwood, Ontario region. Visitors are encouraged to explore the new commerce website, and stay connected with the company through Facebook and Twitter. Owners Andrew and Meghan add, "We have a trusted website. Your information is safe and secure when shopping with us. Our guarantee is if you're not happy for any reason, please contact us and we will do our very best to make the situation right."
For people looking to get a new vacuum or need service on a vacuum that is experiencing trouble, Blue Mountain Vacuum Centre definitely delivers. Blue Mountain Vacuum Centre is also excited that their new ecommerce website offers people vacuum information on problems people could be experiencing with their vacuums, provides order status information, has a wish list feature, and provides helpful information with their blogs on how the products they sell can help asthma symptoms, fight bedbug infestations, and help to alleviate allergies. The company spokesperson adds, "We will work with you. We are happy to help our customers to get the vacuum that meets their needs. After all we are your Neighborhood One Stop Vac Shop!"
For more information about Blue Mountain Vacuum Centre and to view their new eCommerce site.
Please visit Blue Mountain Vacuum Centre.
About Blue Mountain Vacuum Centre:
Since 1986, Blue Mountain Vacuum Centre has had the privilege of providing quality vacuum repairs and sales in the Collingwood, Ontario area. Blue Mountain Vacuum Centre's mission is to provide customized and personal customer service for all vacuum sales and service needs. Andrew and Meghan Berofsky are the owners of Blue Mountain Vacuum Centre, which is a family-owned and operated business. For over 30 years, Blue Mountain Vacuum Centre is widely recognized as being a leader in stocking brands such as Dyson and Miele for residential and commercial use. Their highly trained sales team is familiar with most brands on the market, and can help people find the machine to suit their needs and budget. The vacuum repair technicians at Blue Mountain Vacuum Centre work to repair vacuums quickly and efficiently even if the vacuum is no longer under warranty.
Follow us on: