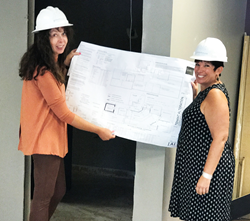 Columbia, MD (PRWEB) September 20, 2017
After a 17-year career with the obstetricians and gynecologists in Howard County, Dr. Leslie Apgar is proud to announce the opening of Greenhouse Wellness, the first medical cannabis dispensary in the area. Dr. Apgar and her partner, Gina Dubbé (Co-Founder of Columbia-based Thera Pearl) are excited to offer the many benefits of medical cannabis to patients in and around the Columbia area.
Apgar and Dubbe are unlikely members of this emerging field, as two mothers and best friends who live in the suburbs and have resumes loaded with professional certifications. Dr. Apgar says, "Many people may look at the cannabis industry strictly from a financial perspective, and sure, there is money to be made, but coming from a medical background, I didn't see it that way. I saw the dispensary as an opportunity to help people find effective, alternative treatment options other than highly addictive opioids. I also saw this burgeoning industry where women are underrepresented. Gina and I wanted to prove that medical cannabis is an amazing opportunity for women—from both a treatment perspective and a business perspective."
Medical cannabis is earning its rightful place as a safe, whole-plant alternative to treat certain medical conditions. The mission of Greenhouse Wellness is to help those looking for relief and to find solutions to the everyday chronic pain and qualifying illnesses and symptoms that constrain them.
Greenhouse Wellness is designed so that individuals from all walks of life can feel safe, comfortable, and assured as they walk in and seek products to help treat their qualifying conditions. Medical staff will be on site to provide confidential consultations that will ensure the best match of products with each particular symptom or disease state, thus providing individualized and exceptional care for the community.
Additionally, Dr. Apgar will be increasing her time at Pura Vida, a state-of-the-art medical spa facility in Maple Lawn, which she founded over ten years ago. The med spa, which is the repeat recipient of Howard County's Best Med Spa Award, offers services like skin tightening, neurotoxins and fillers, laser treatments, and more.
###
About Greenhouse Wellness:
Greenhouse Wellness is a medical cannabis dispensary located at 4801 Dorsey Hall Drive, Suite 110, Ellicott City, MD 21042. It is opening in late October/early November.
The dispensary has a licensed physician on staff with personnel trained in the medical uses and benefits of cannabis. Greenhouse Wellness categorizes treatment options based on a unique medically derived matrix. Once they explore your symptoms and discuss desired effects, they package and track your custom treatment plan.
Greenhouse Wellness focuses on educating patients about different types of consumption, particularly smoke-free options, to reduce the buildup of harmful toxins. Product selection includes oils, tinctures, vaporizers and concentrates, and leaves. This approach provides a refined dosage methodology to most effectively relieve symptoms.
See more: https://www.greenhousewellness.com/
About Pura Vida Medical Spa:
Pura Vida is a Costa Rican-inspired space comprised of a private relaxation room, five beautiful treatment rooms, and a private consultation room all equipped with state of the art technology.
Pura Vida Med Spa specializes in advanced aesthetic and anti-aging procedures led by the expertise of Dr. Leslie Apgar who is the supervising on-site physician.
Pura Vida's goal is simple - to enhance your beauty utilizing the most minimally invasive and painless techniques; to customize your entire treatment to your specific needs; and to make your life-changing experiences at Pura Vida positive, relaxing, and exciting.
See more: http://puravidamedspa.com/