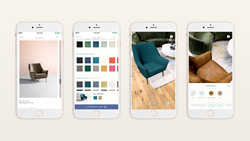 Philadelphia, PA (PRWEB) September 20, 2017
Anthropologie is pleased to announce the introduction of a best-in-class, technology enabled shopping experience in the United States for its custom furniture program. By leveraging augmented reality (AR) and computer generated imagery (CGI), the brand empowers customers to make better informed and more personalized design decisions with an unsurpassed level of ease, accuracy and inspiration.
Since its October 1992 founding, Anthropologie's lifestyle offering has evolved in response to customers' ever-changing tastes and needs. The growth of the brand's custom furniture collection, which was introduced in 2014 and now includes more than 120 shapes, 11 fabrics, 152 colors and multiple options for hardware and leg finishes, was the impetus for the development of Anthropologie's digital visualization tools.
As Andrew Carnie, President of Anthropologie Home, Garden & Europe explains, "As much as our customers delight in personalization, custom furniture design can be challenging. It involves an incredible number of considerations and represents a significant financial investment. As we made more customization choices available, we recognized they needed to understand not only how a piece would look but how it would look in their homes."
Anthropologie's integration of Apple's new ARKit technology into its existing iOS app gives customers the ability to design pieces to their specifications and preview them in real-life environments. In addition, the app's nearly 100% scale and color accuracy allows them to confirm customized styles' physical and aesthetic fit in rooms, as well as with existing furniture and décor. Customers can also consider the effect of light and shadows. For the added confidence of a second opinion they can share views directly from the app in emails to friends and family, or if sure of their choices they can place orders within the app.
The custom furniture website experience is equally rich and seamless. Through a partnership with leading production and post production house CVLT, this fall Anthropologie transformed traditional furniture product pages into canvases for real time exploration. Featuring the highest quality 3D 360˚CGI images, the pages present upholstery options, organized by type and color, additional customization choices and supplementary product information. The exceptional resolution of the CGI renderings allows customers to study pieces from every angle to an incredible level of detail.
"We're dedicated to using technology in ways that bridge the gap between online and offline realms to meaningfully impact customer experience. Our new digital tools will complement physical resources like our stores and home personal stylists to present the full range of furniture customization opportunities and to give customers the confidence they need to enjoy them," says Carnie.
At launch the AR feature will be available for use with 42 custom furniture styles, while the remaining styles will be added by October. Anthropologie's app can be downloaded at no cost from Apple's app store. Users with an iPhone 6s and newer will need iOS 11 to utilize the AR feature.
About Anthropologie
Anthropologie is a multi-channel lifestyle brand that celebrates fashion, art, culture, design and discovery. In addition to a popular catalog and website, Anthropologie maintains 225 stores in the U.S., Canada and Europe including six Anthropologie & Co. locations. Founded in 1992, the company is led by David McCreight CEO of the Anthropologie Group and president of URBN a portfolio of global consumer brands comprised of Anthropologie, BHLDN Free People, Terrain, Urban Outfitters and the Vetri Family.
http://www.anthropologie.com
Media Contact
Sara Goodstein, Anthropologie
sgoodstein(at)anthropologie(dot)com
646.728.2155