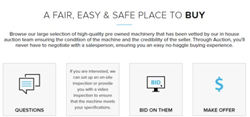 Chicago, IL (PRWEB) September 20, 2017
Riding right on the heels of a revamped storefront, Machinery Marketing International (MMI) is relaunching its popular CNC machinery auction platform with a newly remodeled site.
"We're back," said CEO Paul Zimmer. "And we do everything; set up inspections, logistics, and make sure your money is safe."
Users can sign up to buy or sell machinery quickly and easily thanks to the site's new registration system. The bidding process has been streamlined, allowing customers to place an offer with the click of a button. The listings have been completely redone as well, sporting a modern aesthetic and a comprehensive rundown of the machine of interest. Finding the exact machine a user is looking for has never been easier thanks to advanced search and filtering options.
Beyond simple streamlining, the revamped MMI auction site offers a bevy of new tools aimed at making users feel more comfortable purchasing high-value tools in an online auction. With their new live chat feature customers can ask questions and receive instant feedback from a knowledgeable MMI machinery expert right on the site, and, on request, can set up a video inspection to ensure that the machine they're purchasing is completely up to their standards. Should one not want to wait for the auction to finish, a buyer can make an offer to buy the tool directly from the seller, no bidding or sales haggling required.
The new auction site will have many of the same user-friendly features as the company's new storefront, mmi-direct.com, which launched in March 2017. Zimmer hopes that the auction site will receive the same positive feedback and rapid adoption as the storefront. The storefront site includes smart search, instant pricing, quote history, marketplace and much more, so it was time for auction customers to have a similar positive user experience.
Machinery Marketing International has been in the business of buying, selling and marketing high-quality used machinery and equipment directly from end users for more than 20 years. MMI's full range of services includes buying and selling machinery, asset recovery, plant liquidations, Global logistics, and asset financing.