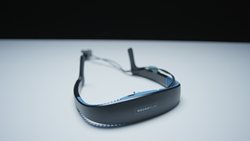 Research into neuroplasticity shows training over time can make your brain better at paying attention — just like exercising a muscle.
Durham, NC (PRWEB) September 19, 2017
In a world teeming with distractions, the ability to focus and pay attention is crucial, whether at work, on the road or in the classroom. Recent research has shown that this ability, like any skill, can be developed and sharpened, and the team of neuroscience experts behind NeuroPlus have created a new product that does just that.
NeuroPlus is a game-based attention-training system that combines neurofeedback, biofeedback, and cognitive training to improve focus and self-control. The program utilizes a state-of-the-art, easy-to-use EEG headset that allows consumers to receive real-time feedback on their brain activity and body movements while they play a set of fun training games. NeuroPlus last week announced a pilot study, which showed that children with attention deficit/hyperactivity disorder (ADHD) demonstrated greater focus and decreased hyperactivity and impulsivity after training on the NeuroPlus system.
The NeuroPlus EEG headset features a flexible design and an adjustable band to allow for a comfortable fit, no matter the age or hat size of the user. The adjustable EEG sensor, positioned at the top of the head, enables accurate data collection from brain regions important for the NeuroPlus applications. Like a smartphone, the headset also contains an accelerometer, and other sensors, that measure your head and body motion and your muscle tension in calmness and self-control training exercises. The more you can sit still and maintain composure, the better you'll do in the game. The headset and software are compatible with iOS and Android devices with Bluetooth 4.0 (Bluetooth Low Energy) support, and is charged via micro USB.
NeuroPlus offers a number of games including Axon, where players focus and remain as still as possible to help a dragon stay airborne to defend a town from such threats as marauding monsters. Heightened focus, as measured through the EEG sensor, will enable the dragon to fly faster. At the same time, the game also monitors movements and muscle tension, so that if the player is too tense or fidgets too much, they will lose points or even control of the dragon. The games also include cognitive training tasks in which users must choose to react or ignore certain stimuli on screen, helping them to hone their attention, calmness, and impulse-control skills.
"Research into neuroplasticity shows training over time can make your brain better at paying attention — just like exercising a muscle," CEO Jake Stauch said. "In order to see results quickly, we recommend using the program three times per week for at least 20 minutes each session. NeuroPlus is not a treatment for any condition, but is a specialized, clinically proven, fun and engaging way for everyone to improve focus and self-control."
The NeuroPlus headset is now available on Kickstarter starting at $249. Early backers can take advantage of purchasing the device for 50% off the retail price.
About NeuroPlus
NeuroPlus Inc. develops brain-sensing technology and training applications to improve cognitive performance in children and adults. Founded by leading neuroscientists and game designers in 2015, NeuroPlus is committing to creating programs that improve mental well-being while engaging and entertaining customers. NeuroPlus products are not intended to treat or diagnose any disease.