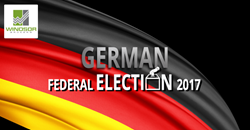 Limassol, Cyprus (PRWEB) September 19, 2017
As part of Windsor Brokers' regular and insightful commentary on market news and events, the broker has today gone live with its special German Election Coverage.
The dedicated segment has been developed with the aim of informing trading strategy by providing:

The latest news surrounding the election, complete with up-to-the-minute polls and a detailed description of the German electoral system.
How the build up to the German Election and its subsequent result will impact financial markets.
Live Webinars before and after the election with Slobodan Drvenica, Financial Analyst at Windsor Brokers.
Coverage of the 2017 German Election is part of Windsor Broker's mission to ensure investors are always up to date with important events which may affect the forex market.
About Windsor Brokers Ltd.
Windsor Brokers is an international, multi-award winning investment firm operating since 1988, offering a wide spectrum of FX and CFD products to retail and institutional traders globally.
Windsor Brokers is licensed and regulated by CySEC, EEA authorised by the FCA and is one of the most highly capitalised brokers in the financial industry.