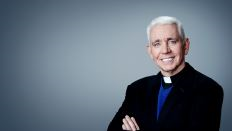 Bronx, NY (PRWEB) September 19, 2017
Calvary Hospital will host its 11th annual Spiritual Care Day on Wednesday, Oct. 18. The Hospital will collaborate for the second time with Fordham University. The theme for the 2017 event is: "Sacred Encounters: Bringing Light to the Darkness."
The event will take place from 8 a.m. to 4 p.m. Wednesday, Oct. 18 at the Fordham Lincoln Center's Pope Auditorium, located at 113 West 60th St. in New York.
The keynote speaker will be CNN faith and religion commentator Father Edward L. Beck, C.P. and he will speak on Religion, Faith and the Media. Workshops will be offered on topics such as sacred space and prayer; issues at the end of life; the importance of empathetic listening at the end of life; and delirium, depression and spiritual suffering. Workshop speakers will include but are not limited to Michael J. Brescia, MD, Christopher P. Comfort, MD, and Fr. Chux Okochi from Calvary Hospital, as well as Fr. Eric Cruz, director of Bronx Catholic Charities.
Doctors, nurses, social workers, chaplains/pastoral care providers in all settings, and other healthcare professionals are welcome. There is no fee to attend. Kosher and Halal meals are available
upon advance request. Registration is recommended by Wednesday. Oct. 11.
To register online, please visit
http://www.calvaryhospital.org/scd2017. For questions, please email spiritualcareday(at)calvaryhospital(dot)org.
About the Company:
Since 1899, Calvary Hospital has been the nation's only fully accredited acute care specialty hospital devoted exclusively to providing palliative care to adult patients with advanced cancer and other life-limiting illnesses. Each year, thousands of patients receive CalvaryCare throughout the greater New York area. To learn how Calvary can help you and your family, please visit http://www.calvaryhospital.org.