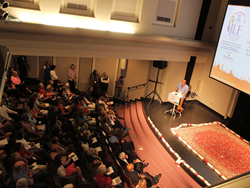 One of the things we can do is encourage the young to write. Writers are better readers.
Boulder, CO (PRWEB) September 19, 2017
The third-annual ZEE JLF at Boulder which took place September 15-17 at the Main Boulder Public Library, featured more than 40 sessions running to packed audiences. Nearly 70 authors joined in conversation with the community as they presented new takes on current events covering topics ranging from migration and cultural appropriation, 100 years of the Russian Revolution, feminism across cultures, journalism and reportage, nature and the environment, U.S. gun culture, Native American rights, yoga and meditation, constitutions, LGBT, Latino, African American and Native American voices.
Saturday afternoon sessions included:
Second Thoughts: A Writer and Diplomat: Navtej Sarna in conversation with John Elliott. Navtej Sarna, Indian Ambassador to the United States of America, is the author of several acclaimed books on subjects as varied as romance, religion and history. In conversation with John Elliott on his life, travels and writing.
"Sikh history is a young religion, just  500 years old. But it is replete with dramatic events in this period: a lot of the martial aspect, a lot of sacrifice, a lot of battles. All that together is a huge area waiting to be written about," said Sarna.
"I think all writers are romantics because you're wishing for a better world, having a nostalgia for a lost world. I think these are aspects of being a romantic."
Migrations: Dan-el Padilla Peralta, Devesh Kapur, and Kayhan Irani in conversation with Marcia Douglas.
Human beings are a nomadic species, and migrations remain a constant part of human history. Economic migrants, political refugees, immigrants and emigrants chart new languages and societies, navigating exile and discovery, alienation and acceptance. Panelists from across continents and cultures speak of their individual experiences and perceptions.
"What it means for the migrant person to Shape-shift?" said Marcia Douglas.
"You are getting an entire nation to reject who you are based on how you entered," said Kayhan Irani. "You're going to shift a little bit. It may be for the worst, it may be for the better."
In regards to the interview for obtaining a green card, Peralta said, "you have to fill out an application that has a volley of questions. Many of the questions, in some cases, are answered by children who are so young and are in no position to answer. If you are not persuasive you get kicked out."
"Cogitative shifts occur… Migrants bring with them a certain set of beliefs and practices," said Devesh Kapur. "They move to a society that has different beliefs and practices."
"In labor markets, language skills do play a role," said Kapur. "If you come in on a work visa, the journey is much, much easier. On an H1B Visa, you get the Visa only if the salary is above the median American salary.  If you come in undocumented the journey is much, much harder… No one knows your degree."
A Life of Adventure and Delight: Akhil Sharma in conversation with Arsen Kashkashian and Maeve Conran.
Akhil Sharma is an important voice in American fiction and the author of "An Obedient Father" and "Family Life", which movingly document both Indians in India and the Indian-American immigrant experience. His latest book, "A Life of Adventure and Delight", plunges the reader into the unpredictable workings of the human heart. In conversation with Arsen Kashkashian, the bookseller from Boulder Bookstore, and Maeve Conran, News Director at radio station KGNU, he talks about his writing.
"Even though I may be a slightly better writer now than I was when I was 19, I still worry about all of the same things," said Akhil Sharma.
"A boy walks into a room. There is no boy, and there is no room. Fiction is just a construct. What is it that you are trying to generate? All of the machinery in fiction is a way to create emotion inside a reader and have that emotion run from one place to another," said Sharma.
The Culture of Reading: Alberto Ruy Sánchez, Amy Stolls, and Namita Gokhale in conversation with Philip A. Lutgendorf, introduced by Sameer Targe. The arts create a culture of empathy and cooperation. This important session looks at ways to create connectivities between languages, keeping humanities relevant and supporting the infrastructure of cultural communication.
"One of the things we can do is encourage the young to write. Writers are better readers," said Amy Stolls.
"Technology has given us the trap of brevity," said Namita Gokhale, "with new language coming our way which is somewhere between emojis and emotions."
​
"An original writer has to be a little weird," said Ruy Sanchez.
Patriot Games: Nationalism and Globalism: Devesh Kapur, Kayhan Irani, Mukund Padmanabhan, Omar El Akkad, and Yassmin Abdel-Magied in conversation with Ishaan Tharoor.
The accelerating changes and unrelenting disruptions of globalization have led to a severe backlash and regression into simplistic racial and national identities. A panel of distinguished speakers examines new, often self-defeating definitions of patriotism and nationalism and the context in which they have arisen.
"As Murakami said, nationalism is like having a lot of cheap liquor—you drink it fast, you go on incredible rampages, then you have a hangover and realize the damage the rampages have done," said Devesh Kapur.
"I love it when people say identity politics have gone too far," said Yassmin Abdel-Magied. "We will always want to belong to a group. The more important question is how we see our group in relation to others. When I talk about identity politics, I'm talking about the differences in the experiences of people."
"Traditional notions of what is left and what is right have completely collapsed," said Mukund Padmanabhan. "Nationalism versus globalism is maybe a false binary."
"How do we derail the way that we've been socialized to participate in systems that do not value us and value our futures?" said Kayhan Irani. "Because our civic discourse spaces are fracturing and decaying, the arts space is where the discourse can take place. We still have not figured out that everything is oriented to maintain the status quo."
"Reality is slowly trying to intrude on the fictional, which is a very terrifying place to be," Omar El Akkad. "We do it this way because we've always done it this way and that means it's right. Many years from now it's going to be safe to call this out for what it is and all the damage it's done."
Undocumented: An American Dream: Dan-el Padilla Peralta in conversation with Maeve Conran.
Dan-el Padilla Peralta came to America as a young boy with his family. Life in New York City was harder than they imagined. Their visas lapsed and Peralta's father returned home to Santo Domingo. Peralta eventually went from being an undocumented immigrant to a Princeton professor. A session on the American dream with all its heartbreak and glory.
"People need to understand that there is no line for you to get in, there is no form to fill out, and there are few legal pathways for you to get permanent status here," said Maeve Conran.
"If not for Hillary Clinton, I would not be here. She set the stage for me applying for another student visa and then I was the beneficiary of a residency. I was very grateful," said Dan-el Padilla Peralta. "What we need is a revolution in values—an ethical revolution that recognizes the right of the foreigner to be here without questioning what they contribute to the U.S. economy."
Undercover in North Korea: Facts and Fictions: Suki Kim in conversation with Omar El Akkad.
Suki Kim, born in South Korea, is the author of acclaimed novel "The Interpreter" and NY Times bestselling nonfiction book "Without You There Is No Us: Undercover amongst the Sons of North Korea's Elite" on her six months undercover investigation embedded within North Korea. In conversation with award-winning Canadian-Egyptian novelist and journalist Omar El Akkad, they speak of chronicling our troubled times and bridging the dysfunctionalities and distances between cultures and continents.
Suki Kim said, "Korean is spoken in Korea, North and South, but the north Korean language is unbelievably violent. I think that society does reflect in language. It is horrifying to hear the Korean language spoken in North Korea; a classroom is referred to as a "Platoon" instead of a classroom, the workplace is called a "Battlefield", the citizens are called "Bullets". The whole language is about war."
​​
In North Korea, a classroom is referred to as a "Platoon" instead of a classroom, the workplace is called a "Battlefield," the citizens are called "Bullets." The whole language is about war."
"With North Korea, reality is more fictional than fiction. My responsibility was to vividly and accurately capture North Korea, because no matter what I say, it's really hard to believe. The surface of North Korea is so brutal and so bizarre, that people don't somehow see the humanity."
"North Korea is like a fog. Because I can't verify any of it as a journalist, my drive to get the truth of it became that much more urgent."
​
Feminism Across Cultures: Breaking Boundaries: Anita Anand, Anne Waldman, Jeanine Canty, and Yassmin Abdel-Magied in conversation with Namita Bhandare.
The politics of feminism is constantly evolving even as some issues remain unchanged. Whether it's hijab politics or menstruation stigma, domestic violence or sexual abuse, gender pay gaps or leadership vacuums, today's generation of feminists finds common causes that straddle the globe. Using new mediums like social media, can we forge new alliances and links that go beyond geographical boundaries?
"Show me a place where we have gender equality. Show me this utopia ... because I'd love to go there. It doesn't exist," said Yassmin Abdel-Magied. "We cannot talk about gender equality in isolation from racial equality and sexual equality."
"Learn to shout and learn to make space for those voices who need to be heard," said Anita Anand.
Sessions on the final day, Sunday, September 17, included:
The Colonial Enterprise: Shashi Tharoor in conversation with Anita Anand.
As India celebrates 70 years of its independence from colonial rule, this session debates colonialism's claims of benefit and development despite evidence of its fundamental nature. Shashi Tharoor, author of "An Era of Darkness", discusses this period, and the colonial project in its larger scope and impact, as well as the lingering effects of colonization that persist even today.
"Churchill was like Hitler. Hitler killed 6 million. Churchill killed 4.5 million in one war," said Shashi Tharoor. "Forgiveness is a good thing. Holding bitterness and hatred inside corrodes you. I say forgive, but don't forget.
'Made in India' was the cache, the hallmark of high quality before the Brits colonized us, said Tharoor. "I take pride in the accomplishments of ancient India. It seems we need to revive some of that."
On Cultural Appropriation: Anne Hillerman, Jovan Mays, Saikat Majumdar, Stephen Graham Jones, and Yassmin Abdel-Magied in conversation with Laird Hunt.
Can writers and artists become whomsoever they want to be? Or are they morally bound to write about where they belong and what they know, understand and can substantiate? Is the rooted imagination truer than the borrowed one? The values of empathy can outweigh identity thefts and exotic stereotyping. The crucial session debates 'who holds the copyright on authenticity across geographies and cultural landscapes'.
Blackfeet Native American author and teacher, Stephen Graham Jones, began the conversation with his perspective on the OutKast scandal at the Grammy Awards when Andre "3000" Benjamin took the stage wearing a headdress. He claimed that American Indians were upset about the incident because it is not his culture, but that this only cast them as victims. Jones commented "when we get mad at a headdress in a music act, we are falling for bait. We are distracted and we should be paying attention to the real issues of sovereignty and repatriation…not who is wearing a feather or not."
Yassmin Abdel-Magied is passionate about making diversity the norm, and believes "there is nothing in culture that is absolute." She believes there is a responsibility for authors to take the time to write truly nuanced characters and not stereotypes that further marginalize people without power. People believe stories and the "stories we tell affect our reality."
Poet Jovan Mays approached the topic in basic terms by first asking why it is so hard for people to simply ask questions. He believes that most writers are appropriators to some degree and admits to often appropriating his own grandmother. Mays confessed to not knowing the etymology of the word 'appropriation' and simply said, "we are just jacking someone else's stuff."
English and creative writing teacher and author, Saikat Majumdar took an academic approach to the topic. "All art is an endless tension between the familiar and the alien. We need both."
Laird Hunt followed up by quoting Maisha Z Johnson in Everyday Feminism who wrote, "In short: Cultural appropriation is when somebody adopts aspects of a culture that's not their own."
Words Are All We Have: Eleni Sikelianos, Kanishk Tharoor, and Paulo Lemos Horta in conversation with Namita Gokhale.
Two writers, a poet and a translator speak about ways of seeing and recording, and how they navigate words across countries and cultures. Eleni Sikelianos is a poet and author of two hybrid memoirs, Kanishk Tharoor is a journalist, critic and writer, and Paulo Lemos Horta, a scholar of world literature, in conversation with writer and Festival Director, Namita Gokhale.
"Poetry is about waking us up, making us attentive to the dangers in the world," Eleni Sikelianos.
 
"We need to make people enjoy sentences—otherwise you can just watch TV," Kanishk Tharoor.
 
"I tend to think I'm religious, but I don't know if I'm really religious or if it's just the incantatory power of poetry," Namita Gokhale.
Between the Lines: Michael Rezendes and Suki Kim in conversation with Kanishk Tharoor.
A riveting conversation about journalism. Novelist and investigative journalist Suki Kim, author of the award winning novel "The Interpreter" and New York Times best-selling literary nonfiction "Without You There is No Us: Undercover Among the Sons of North Korea's Elite" alongside journalist and Pulitzer Prize winner Michael Rezendes, hailed for his investigative work for The Boston Globe, speak with writer and journalist Kanishk Tharoor on immersive journalism, the experiences that have shaped their life and writings, the lines between fiction and nonfiction, and the power of words.
"Our collective outrage and anger really motivated us to get to the bottom of the story and do the best we could," Michael Rezendes.
 
"There's this idea of undercover journalism where you try to put someone in a compromising positon for some sensational value. That's not journalism. That's deception," said Suki Kim. "When there's so little to be said, you understand each other in silence and censorship."
Orientations: Writing Sexuality: Amber Cantorna, Anosh Irani, Crisosto Apache, Janice Gould, and Minal Hajratwala in conversation.
As gender identities and roles become even more fluid, the LGBT community continues to face hostility and discrimination around the world. A session of ideas and critiques, poetry and prose readings on writing sexuality.
"We're all really caught in these forces of history and there's not really anything I could do as a third-grader to mitigate it," said Minal Hajratwala.
 
"A big issue for us is getting people to turn to literature to see how to imagine worlds and empathize with others," said Janice Gould.
 
"I'm an immigrant in my own country," said Crisosto Apache.
 
"I don't think one can write from fascination. My connection was that I was deeply affected—inspired by the bravery of individuals and horrified by what people do to each other," said Anosh Irani.
 
"I can count on one hand the number of people who are still in my life who were in my life before I came out," said Amber Cantorna.
The Girl From Aleppo: Christina Lamb in conversation with Ishaan Tharoor.
Christina Lamb is the author of "The Africa House" and "I Am Malala", co-authored with Nobel Peace Prize winner Malala Yousafzai. In conversation with journalist Ishaan Tharoor, she talks of her time reporting on conflict zones, including Iraq, Pakistan and Afghanistan, her latest book "The Girl from Aleppo", and how her experiences have influenced her works and writings.
"One in every 113 people in the world today are refugees or escaping wars," said Christina Lamb. "Terrorists know they get bigger headlines when killing a journalist than killing a soldier."
In Denial: Climate Change and Justice: John Huston, Marcus Moench, and Odd Harald Hauge in conversation with Jeanine M. Canty.
With the US withdrawal from the Paris agreement, skeptics have dismissed global alerts on human-made warming. While carbon intensive economies dictate policies that impact our shared planet, environmentalists struggle for strategies to reverse environmental damage and sensitize people about it. A crucial session on climate change, urbanization, social justice and water resources across borders and cultures.
"If Greenland disappears water will increase 2 or 3 meters, a lot of cities can say goodbye," said Odd Harald Hauge.
 
"My feeling is that politicians don't move where they see the light, they move where they feel the heat," said Marcus Moench.
 
"Global warming is a horribly inappropriate name for what's happening. We should call it global pollution," said John Huston.
Visiting Gaden Shartse Monks Create a Vajrasattva Sand Mandala During Festival
A group of monks from the Gaden Shartse Monastic Community in Mungod, India created a Sacred Vajrasattva Sand Mandala in the Canyon Gallery at the Boulder Public Library. The Dissolution Ceremony took place on Sunday, Sept. 17 at 5pm which included the distribution of Sacralized Sand to those in attendance.
~~END ~~
BACKGROUND NOTES
About the ZEE JLF at Boulder, Colorado
In its 10th year, the ZEE Jaipur Literature Festival in India is the world's largest free literature festival, drawing some 350,000 footfalls at Diggi Palace in the Rajasthan's capital Jaipur, this past January. The festival serves as a beacon of free speech around the world, and has inspired more than 200 other literature festivals, both in India and other countries. ZEE JLF was recently awarded 'Best Festival' at the Outlook Traveller Awards in India.
Dubbed "the greatest literary show on Earth," ZEE JLF successfully expanded to London in 2014, and selected Boulder as its only U.S. location in 2015. Voted the U.S.'s brainiest (more Ph.D.'s per capita than any other US city) happiest and foodiest city, the Festival was wildly successful in its first two years in Boulder. Festival organizers expect more than 10,000 people to attend this year from throughout the country and around the world.
At the 2017 ZEE JLF at Boulder, held at the Main Boulder Public Library, attendees from throughout the U.S. and across the globe experienced an uplifting celebration of the mind and heart, as writers from across the Americas, Asia, Africa and Europe engaged in provocative conversations. Topics of discovery spanned life and society, economics and the arts, equity, freedom and the care of our planet.
There is no admission fee, but attendees must register. For more information, confirmed speakers, and registration, visit jaipurliteraturefestival.org/boulder.
About ZEE Jaipur Literature Festival
Writers and Festival Directors Namita Gokhale and William Dalrymple invite speakers to take part in the five-day program set against the backdrop of Rajasthan's stunning cultural heritage and the Diggi Palace in the state capital Jaipur. Website: [http://www.jaipurliteraturefestival.org
The ZEE Jaipur Literature Festival is a flagship event of Teamwork Arts, which produces over 25 highly acclaimed performing arts, visual arts and literary festivals across more than 40 cities globally, and is produced by Sanjoy K. Roy. Website: http://www.teamworkarts.com
About Zee Entertainment Enterprises Limited (ZEEL)
Zee Entertainment Enterprises Ltd. (ZEEL) is a worldwide media brand offering entertainment content to diverse audiences. With a presence in over 172 countries and a reach of more than a billion people around the globe, ZEEL is among the largest global content companies across genres, languages, and platforms.
ZEEL is present across broadcasting, movies, music, live entertainment, digital and talent businesses, both within India and overseas. ZEEL has more than 240,000 hours of television content and houses the world's largest Hindi film library with rights to more than 4,200 movie titles across various languages. ZEEL has also produced several movies for theatrical release and is the fastest growing music label in India. It has presence in the digital space with 'dittoTV' and 'OZEE' and has also ventured into live events.
More information about ZEE and its businesses is available on http://www.zeetelevision.com.
Official Social Media Platforms:
Twitter               :               ZEECorporate/Twitter.com
Facebook            :               ZEECorporate/Facebook.com
LinkedIn              :               Linkedin.com/Company/ZEECorporate