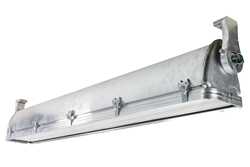 Fluorescent style fixtures are great options for work spaces because of their illumination patterns, but most versions are not equipped for hazardous locations. That's why we've created fluorescents that are rated and approved for use in hazardous locations, giving operators really great, effective
Kemp, TX (PRWEB) September 19, 2017
Larson Electronics LLC, leader in industrial lighting, has released a Hazardous Area Fluorescent Light Fixture that is U.S./Canada U.L. approved Class 1 Division 2 Groups A, B, C and D - UL listed, has a T4A temperature rating. This pivoting light unit is ideal for hazardous locations where flammable chemical/petrochemical vapors may be encountered such as oil drilling rigs, refineries, chemical manufacturing facilities, gas processing plants, and more.
The HAL-48-3L-BL is a 4-foot-long UL 1598A listed pivoting fluorescent fixture, that is Class 1 Division 2 Groups A, B, C and D rated for hazardous area use. This unit has two lamps that can be equipped with several different bulb options including: T5HO, T8, T12HO or T8HO. The HAL-48-3L-BL is T4A temperature rated, and has an electronic multi-voltage ballast that operates on universal voltage, not multi-tap, from 120V to 277V AC 50/60hz without any. This includes commonly found 120 Volt 60 HZ, 220 Volt 50 HZ, 240 Volt 60 HZ and 277 Volts 60 HZ.
This hazardous area fluorescent features standard swivel mounting brackets, allowing operators to adjust the angle of the light to achieve their desired illumination positioning. The HAL-48-3L-BL is constructed of copper free aluminum alloy and powder coated for additional protection against the elements. The fixtures lens is framed in heavy gauge aluminum and coated with a high gloss reflective for corrosion resistance. This weatherproof class rated light fixture provides operators in hazardous locations with a highly efficient, reliable and affordable lighting solution for open areas where flammable chemicals and vapors may occasionally be present.
"Fluorescent style fixtures are great options for work spaces because of their illumination patterns, but most versions are not equipped for hazardous locations," said Rob Bresnahan, CEO of Larson Electronics LLC. "That's why we've created fluorescents that are rated and approved for use in hazardous locations, giving operators really great, effective lighting."
About Larson Electronics LLC: Larson Electronics LLC is a manufacturer of industrial lighting equipment and accessories. The company offers an extensive catalog of industry-grade lighting and power distribution products for the following sectors: manufacturing, construction, food processing, oil and gas, military, marine and automobile. Customers can benefit from the company's hands-on, customized approach to lighting solutions. Larson Electronics provides expedited service for quotes, customer support and shipments.
High Resolution Image 1-HAL-48-3L-BL
High Resolution Image 2-HAL-48-3L-BL
High Resolution Image 3-HAL-48-3L-BL
High Resolution Image 4-HAL-48-3L-BL
High Resolution Image 5-HAL-48-3L-BL
High Resolution Image 6-HAL-48-3L-BL
Product Cut Spec Sheet-HAL-48-3L-BL