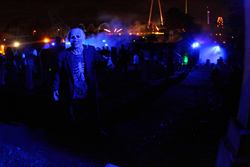 BRISTOL/SOUTHINGTON, CT (PRWEB) September 19, 2017
The Haunted Graveyard at Lake Compounce is thrilled to announce the opening of its 19th season on September 29th and is open weekends through October 29th. This year, The Haunted Graveyard is celebrating with a NEW maze scene and more scares than ever before!
The Haunted Graveyard at Lake Compounce is a 45 minute walk through filled with different haunted house scenes including, a slaughter house, dungeon, witches lair, and so many more! Throughout the maze, there are over 200 scare monsters that lurk around every corner, waiting for their next victim.
NEW to Haunted Graveyard 2017: Enter into the mysterious and majestic Voodoo Swamp! Watch your step as you venture through the untamed, weed choked wetlands. The shining eyes of alligators and other slithering things watch you try to escape. Beware, there may be something lurking in the shadows, stalking their pray!
NEW to Lake Compounce 2017: Join in a delicious Boo Brew Fest, September 29 & 30 from 5-10pm. A brew fest of epic proportions featuring 10 Connecticut based craft breweries plus delicious Fall food. Located at The Croc Pot, featured Breweries include Two Roads, Thomas Hooker, Back East, Stony Creek, City Steam, Olde Burnside, Broad Brook, Half Full Brewery, Firefly, and more. Guests who are 21+ and have an Adult Combo Ticket (Rides and Graveyard admission) will get one FREE flight of local brewed beer!
Lake Compounce is open each night of Haunted Graveyard and will feature special Halloween décor and live actors roaming the midway streets, dressed to scare. Lake Compounce opens at 5pm and will have 17 rides available to enhance the thrill of the night! Kiddieland and Crocodile Cove Water Park will be closed. The Haunted Graveyard is a separate attraction located at the north end of Lake Compounce and will open at dusk. All guests must enter via the main gates, and are encouraged to arrive early. Haunted Graveyard and Lake Compounce tickets are available for purchase online or at the main gate.
This attraction is rated PG for Pretty Ghoulish, and is not intended for small children or adults who may be frightened easily.
About Lake Compounce & Palace Entertainment
Lake Compounce is New England's premier family theme and water park and is located in Bristol, CT. Featuring over 50 rides, shows, and attractions, Lake Compounce is the oldest continuously operating amusement park in North America, celebrating its 171st season. This park is home to Connecticut's largest water park, Crocodile Cove. Lake Compounce is owned and operated by Palace Entertainment, one of the leading leisure park operators in the United States. Palace Entertainment owns and operates eight water parks, six theme parks, two animal parks, and five family entertainment centers across 10 different states. For more information, please visit lakecompounce.com, or connect with us on Facebook, Twitter, and Instagram.
###