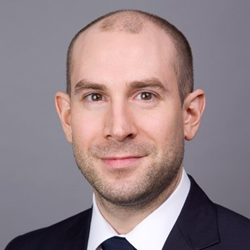 Cologne, Germany (PRWEB) September 20, 2017
cleverbridge, a provider of global ecommerce, billing and payment solutions, announces cleverbridge general counsel Dr. Timm Neu will present at Internet Security Days 2017 to be held September 28-29 at Phantasialand in Brühl, Germany. Dr. Neu will present "Shared Responsibility in the Connected World – Opportunity or Destiny?" on September 29 at 2:30 pm.
During his presentation, Dr. Neu will cover contractual liability design, collaboration on service and product provision, involved product liabilities, and further possible paths for shared responsibility in the digitally connected world. Internet Security Days brings together IT security experts, security decision-makers and end-user companies to network and learn about current threats and new strategies in the fight against cybercrime. In addition to cyber attacks, the event focuses in particular on "Human Factors", "Advanced Cybercrime", "Connected World" and "Security by Design."
As general counsel of cleverbridge AG, Dr. Neu focuses on international IT/IP, business and contract law. He also leads strategic and corporate legal consulting, international negotiations, and the management of the company's Legal department. With cleverbridge's Legal team, he specifically ensures cleverbridge's compliance with multi-national regulatory requirements and consumer protection laws affecting ecommerce purchase processes, customer approvals and terms and conditions. Finally, Dr. Neu coordinates the legal aspects of cleverbridge's expansion and service diversification.
For more information on Internet Security Days, visit https://isd.eco.de. To learn more about cleverbridge, please visit http://www.cleverbridge.com/corporate/grow-recurring-revenue-video.
About cleverbridge
cleverbridge provides flexible ecommerce solutions for monetizing digital goods, online services and SaaS. Our cloud-based ecommerce platform simplifies recurring billing, optimizes the customer experience and offers comprehensive global payment capabilities. Leveraging cleverbridge expertise, technology and services, clients effectively increase customer acquisition and retention while rapidly expanding into international markets for revenue growth. cleverbridge is headquartered in Cologne, Germany with offices in Chicago, San Francisco and Tokyo. For more information, visit http://www.cleverbridge.com.