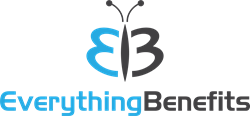 Our partner community of payroll service bureaus, human resource outsourcers, brokers and third-party administrators are excited to wield this new tool to help their clients
New Providence, NJ (PRWEB) October 05, 2017
EverythingBenefits, a provider of comprehensive, next-generation benefits technology solutions and services, announces the launch of its new automated Premium Reconciliation & Billing Consolidation solution designed to give its clients the ability to address insurance premium overpayment/underpayment issues by providing billing transparency, accountability, and cost reduction insight.
According to a survey by the National Business Group on Health, total costs for employee health care benefits are expected to rise an average of 5% in 2018. As the breadth and diversity of products employers make available to employees increases, it becomes increasingly difficult to manually manage leakage costs and enrollment data. Due to this growing administrative burden, self-funded employers as well as those that embrace traditional coverage typically face a lack of visibility and transparency into total cost, including both employer and employee contributions.
Insurance premium reconciliation is traditionally a manual process with the goal of fixing unintentional benefits premium overpayments or underpayments to carriers. EverythingBenefits' Premium Reconciliation & Billing Consolidation solution is designed to automatically monitor for and detect discrepancies on an employer's insurance premium bills, then proactively resolve them with minimal human interaction. The solution works by taking insurance invoices and automatically comparing them to an employer's employee census, based on actual 'live' payroll data, while flagging any discrepancies for users to act upon.
Premium leakage refers to the hidden costs that occur when administering employee benefits, typically resulting in paying an amount more (or less) than necessary when invoiced. A common example is when an employee is terminated from employment while a company continues to pay for said employee on their plan. In addition to identifying leakage costs, employers are better able to ensure proper plan coverage across their employee population as well as overall costs associated with specific plan types. Through data analytics, employers are able to improve decision-making and optimize plan coverage while containing premium costs.
"Our partner community of payroll service bureaus, human resource outsourcers, brokers and third-party administrators are excited to wield this new tool to help their clients" commented Stephanie Magou, Associate Product Manager at EverythingBenefits. "For clients who have one-hundred or more employees, offering two or more plans, this solution will help them gain transparency into the true costs of their benefits to plug hidden leakage costs. The solution also provides an extra value-add for our partners looking to retain their existing client base, as well as attract new clients."
#####
About EverythingBenefits
EverythingBenefits is a leading provider of next-generation, end-to-end benefit technology solutions and services that help businesses of all sizes and their employees experience benefits in more meaningful ways. By leveraging an open business model, EverythingBenefits partners with benefit brokers, independent agents, insurers, payroll and human capital management companies, and third-party administrators. The company's philosophy is that technology should make life simpler, more rewarding, and more enjoyable. For more information, please visit our web site at http://www.everythingbenefits.com or connect with us via LinkedIn, Twitter, or Facebook