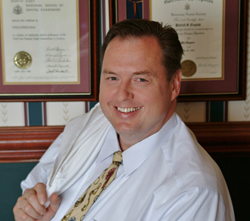 La Plata, MD (PRWEB) September 20, 2017
In support of National Gum Care Month, Dr. Patrick Cieplak raises awareness of the importance of receiving prompt gum disease treatment and invites those with bleeding gums to receive periodontal treatment. Dr. Cieplak urges his community to become aware of the common periodontal disease symptoms and stages, including gingivitis and periodontitis. Patients with gingivitis in La Plata, MD, can receive qualified treatment before their symptoms progress and lead to periodontitis.
The Centers for Disease Control and Prevention (CDC) estimate that nearly half of adults in the United States have periodontal disease. The earliest stage of the disease is gingivitis, and it is important for patients who suspect they may have gingivitis in La Plata, MD, to treat their symptoms before they worsen. Gingivitis is curable in many instances, but more advanced stages of gum disease are not and require routine periodontal maintenance. Gingivitis is marked by inflammation of the gum tissue, which can lead to bleeding gums and increased tooth sensitivity. The second stage of gum disease is periodontitis, which involves swelling of the gum tissue as well as gum recession. At this stage, periodontitis is not curable, but its symptoms can be treated and managed.
The final stage of gum disease is advanced periodontitis. Advanced periodontitis can cause the teeth to loosen or fall out due to degradation of the bone and gums that support them. Patients with receding gum tissue, increased tooth sensitivity, chronic bad breath and bleeding or swollen gums are urged to receive a consultation immediately to find out if they have gum disease.
Patients with bleeding gums, or other signs of gingivitis in La Plata, MD, are encouraged to schedule an appointment with Dr. Cieplak during or after National Gum Care Month. Dr. Cieplak has served his community with leading dental care for over 30 years. He offers a variety of preventative treatment options to help patients avoid developing the disease, as well as effective treatments for those who already have it. Appointments can be reserved by calling Cieplak Dental Excellence at 301-609-9999.
About the Doctor
Dr. Patrick Cieplak is a general dentist offering personalized dental care to patients in La Plata, MD. Dr. Cieplak is dedicated to learning the latest dental techniques and has completed hundreds of hours of continuing education courses. Dr. Cieplak is one of only 3,000 dentists to receive the Academy of General Dentistry's Master's Degree and he is a Fellow in the International Congress of Oral Implantology as well as Associate Fellow in the American Academy of Implant Dentistry. Cieplak Dental Excellence strives to offer each patient customized treatment to help them achieve proper oral health. To learn more about Dr. Cieplak, his team or the services they offer, please visit http://www.patcieplakdds.com or call 301-609-9999 to schedule an appointment.