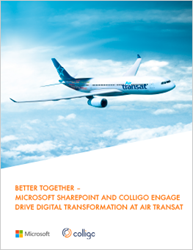 With Colligo Engage, Air Transat can now store content in the cloud versus creating physical copies, providing employees with a centralized way to distribute the right content to the right tablets for offline access.
Vancouver, BC (PRWEB) September 21, 2017
With the rollout of its software that enables secure access, synchronization, modification and sharing of SharePoint content, Colligo, the leading provider of mobile content-management solutions for Microsoft SharePoint, Office 365 and OneDrive for Business, has successfully simplified the distribution of essential information for Air Transat crews. Six months after the implementation of Colligo Engage, a survey of its users has revealed a 91% satisfaction rate.
Air Transat, named North America's Best Leisure Airline at the Skytrax World Airline Awards, carries 4.5 million passengers every year to nearly 60 destinations in 26 countries aboard its fleet of Boeing and Airbus jets. In order to optimize its global operations while maintaining its compliance with regulatory requirements for the updating of inflight manuals and documents, it wanted to introduce better tools for managing and distributing information quickly and efficiently.
"Previously, we had to distribute paper copies of operational information in airport crew rooms. If the aircraft manual was revised, updated pages or entire copies had to be physically replaced across all airports," says Martin Lachance, Director, IT Solutions, Air Transat. "SharePoint Online enabled us to centralize, structure and classify large volumes of documents for crew, including relevant operational instructions, aircraft manuals, memos, human-resources-management documents, training videos, and even programming for entertainment systems."
However, because crews are always travelling, it was critical to give them access to the information anytime and anywhere. With Colligo Engage, Air Transat can revise the documents on SharePoint Online and send the information instantly. Today, the airline's 300 flight directors are equipped with tablets and the Colligo Briefcase for iOS application that give them real-time access to all the relevant information governed by SharePoint Online. Air Transat also obtained the necessary regulatory approvals to replace print manuals with electronic versions on tablets with Colligo Engage.
"Companies continue to undergo digital transformation to improve communication with mobile workforces and find efficiencies in their operations," said Charlotte Burke, Vice President, One Commercial Partner, Microsoft Canada. "With Colligo Engage, Air Transat can now store content in the cloud versus creating physical copies, providing employees with a centralized way to distribute the right content to the right tablets for offline access. In addition, the SharePoint solution gives senior IT staff the ability to view and monitor detailed usage patterns, safeguarding governance mandates and streamlining operations."
For his part, Dave Bourdages, Vice-President, In-Flight Services and Commissary. Air Transat, points out: "Whether they are on a flight, in a hotel or aboard a shuttle, flight directors have access to all the SharePoint information they need to prepare for flights and provide the crew and passengers with a pleasant and safe experience. We have received very positive feedback from users, 91% of whom are satisfied. We are truly very impressed with the efficiency gains achieved."
The complete success story can be found at http://www.colligo.com in the recently published Microsoft case study, "Better Together – Microsoft SharePoint and Colligo Engage drive digital transformation at Air Transat."
About Colligo
Colligo is a leading provider of collaborative apps for the digital workplace, extending Microsoft SharePoint, Office 365, and OneDrive for Business. The company's award-winning, unified suite is used by organizations every day for email management, document distribution, and mobile collaboration. Colligo is a Microsoft Gold Application Development Partner and Microsoft Silver Cloud Platform Partner, with Global 500 customers including four of the top five global oil and gas companies, EDF Energy, Bayer, Microsoft and the U.S. Department of Energy. For more information, please visit http://www.colligo.com.
About Air Transat
Air Transat is Canada's number one holiday travel airline in the Canadian and transatlantic markets. It also offers domestic and feeder flights out of five Canadian airports. Every year, it carries nearly 4.5 million passengers to approximately 60 destinations in 26 countries. Based in Montreal, the company employs 3,000 people and operates a fleet of Boeing narrow-body and Airbus wide-body jets. In 2017, Air Transat was named the second-best leisure airline in the world, and the best in North America in the same category for the sixth consecutive year, by Skytrax. In recent years, the carrier has earned multiple distinctions for its efforts to reduce its environmental footprint. Since 2011, it has consistently been ranked number one in North America for energy efficiency, and in the Top 20 worldwide, by the Atmosfair Airline Index. Air Transat is a business unit of Transat A.T. Inc., a leading integrated international tourism company active in air transportation, accommodation, travel packaging and distribution. Transat was awarded Travelife Partner status in 2016 in recognition of its commitment to sustainable development. The vacation travel companion par excellence, Transat celebrates its 30th anniversary in 2017.
For information:
Bruce Herzer
Marketing Director
Tel: +1 604 685-7962, ext. 229
E-mail: bherzer(at)colligo.com