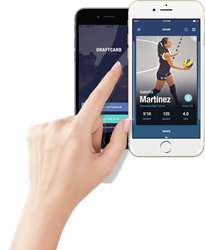 In the competitive world of student athlete recruiting, it's important to stand out in a crowd"
Los Angeles, CA (PRWEB) September 20, 2017
DRAFTCARD™, an easy-to-use, social sports networking app, launches a platform that allows youth athletes to create their own shareable profile packed with stats, achievements, GPA, highlights, videos and personal success and store them in their own Virtual Locker™. It is an innovative new social experience used by student-athletes to interact, share and heighten their athletic exposure. The iPhone /Android app is the first of its kind to provide athletes an innovative way to reveal their level of play and has quickly gathered a large, loyal following while still in its beta soft launch phase.
"We are always looking for innovative partners." said Lisa Strassman, President of NCSA. "DRAFTCARD is a great new way for student-athletes to showcase who they are. By connecting to the NCSA collegiate athletic recruiting network, DRAFTCARD athletes can share their personalities with college coaches."
DRAFTCARD's current sports offerings include, Football, Baseball, Softball, Basketball, Volleyball, Soccer and Lacrosse. Additional sports including Extreme Sports are in development currently. Athletes can create multiple cards for different sports to document their achievements and further boost their visibility. The app offers many unique and helpful features such as sharing cards through text, email, Twitter, Facebook, Messenger, Instagram, Snapchat and more.
"In the competitive world of student athlete recruiting, it's important to stand out in a crowd. DRAFTCARD with its proprietary AR/VR/AI technology will change the way we view, comment, and share athletes profiles and talents" said Chris Burget, CEO & Founder of DRAFTCARD™. "Partnering with NCSA allows youth athletes from all over the world to get verified and stand out in a crowded marketplace. Our seamless integration with NCSA and the verification process, gives student athletes the ability to create a shareable DRAFTCARD to connect both fans, teammates and over 35,000 club and college coaches in the NCSA network".
For more information about DRAFTCARD™ please visit draftcard.com or contact Kristin Currey at 949-872-8261 or kristin(at)draftcard(dot)com.
About DRAFTCARD™:
The Los Angeles, CA based company startup founded by three entrepreneurs, two of which were former Division 1 scholarship athletes.