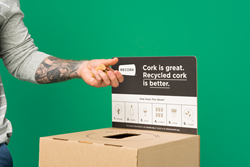 (PRWEB) September 20, 2017
ReCORK, the natural wine cork recycling program that has taken North America by storm, has recently collected its 75 millionth wine cork. This is a defining moment for the recycling program and its success in diverting corks from the waste stream has resulted in the natural material being repurposed into the production of new consumer goods.
In 2008, ReCORK was discovered and adopted by Canadian footwear company SOLE while they were seeking new ways to use sustainable materials in their products. Since then, ReCORK has grown quickly across the United States and Canada, collecting natural wine corks with the help of the public and their network of over 3,000 partners. The success of the program has attracted many large partners, which has recently included Las Vegas hotels Bellagio and Mandalay Bay.
ReCORK's entire recycling process is carbon negative, in that it goes a step beyond carbon neutral and actually removes carbon from the atmosphere. The program does this by grinding natural cork in a hydro-powered facility without the use of harmful chemicals, planting over 8,000 cork oak trees to date. It also uses a carbon neutral shipping program wherever possible. Additional carbon negativity is achieved naturally as cork oak trees are carbon sinks that lock away carbon in their bark, the part of the tree that is harvested as cork, thereby improving the atmosphere.
When the trees are harvested, they are done so sustainably and only the bark is taken, a process that actually prolongs the tree's life from just 70 years to over 250 years. The more a tree is harvested for its cork, the more cork it produces, locking away more carbon. ReCORK explains that this is why choosing natural cork products helps to conserve over 6.7 million acres of ecologically sensitive cork forests. By adding to the demand for natural cork, more harvesting takes place, thus prolonging the life of the trees.
The recycled cork material is being used in the production of new consumer products, such as ReCORK's own yoga block, the 198* Block, made out of 198 recycled natural wine corks. The block is made entirely from recycled cork as a replacement for synthetic foam blocks and makes the perfect under $20 holiday gift for the sustainable yogi in your life.
ReCORK may have surpassed a recycling milestone, but the program's work is far from over. Seventy-five million corks is a significant amount, but more than 31 billion bottles of wine are consumed each year around the world. Tons of natural corks are still being thrown into the trash. With powerful storytelling through its network of international partners, ReCORK aims to raise awareness about the option of cork recycling and be a point of education around cork recycling and sustainability.
Learn more about ReCORK and how you can get involved with the program at recork.org.