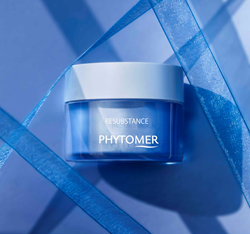 Formulated to treat dry, dehydrated, tight and uncomfortable skin caused by the sudden decrease of lipids following menopause
SAINT-MALO, FRANCE (PRWEB) September 21, 2017
Formulated to treat dry, dehydrated, tight and uncomfortable skin caused by the sudden decrease of lipids following menopause, Phytomer introduces RESUBSTANCE Skin Resilience Rich Cream. It's a dual action cream designed to plump and firm the skin by attacking the internal and external causes of aging thanks to two exclusive ingredients: Concentrated Brown Algae and Marine-Origin Corneogel. These marine ingredients actively work together to target each layer of the skin for a re-cushioning effect, designed to work from the inside out. Concentrated Brown Algae works beneath the surface of the skin and replenishes the deeper dermal tissues, re-plumping the skin from within. Marine-Origin Corneogel re-densifies the outter layer of skin to fill wrinkles on the surface. This ultra-nourishing moisturizer has a rich texture to saturate thin skin with a cocktail of lipids, leaving a subtle, fresh scent of orange, musk and marine notes. Day after day, RESUBSTANCE improves support and tone, leaving skin visibly firmer and more elastic.
RESUBSTANCE Skin Resilience Rich Cream, 50 ml, suggested retail price $145.50
Directions for use: apply morning and evening to perfectly cleased face and neck.
Key ingredients:

Brown Algae Concentrate - restores substance to skin tissues thanks to essential molecules: collagen and elastin fibers and hyaluronic acid.
Marine-Origin Corneogel - restores substance to the stratum corneum to fill surface wrinkles with cellsfrom marine origin: seawater enriched with mineral NMF boosters, mico-algae concentrated in amino acid NMF boosters, lactic acid and lipids.
Impressive results:
More substance deep down
Synthesis of collagen 1: +46%*
Skin is plumped up: 88%**
Skin is springier: 87%**
More comfort
Skin is immediately more comfortable: 92%**
Skin is less dry: 96%**
In vitro tests on human dermal fiberblasts. **Satisfaction test on 24 women. Twice-daily application for 28 days.
Phytomer at a glance:
With over 40 years as the leader in the marine skin care, Phytomer is now a pioneer in the field of marine biotechnology, the future of results-oriented cosmetics. This is the newest technology to create innovative, 100% natural skin care ingredients. Based in Saint-Malo, France and distributed in 70 countries worldwide, Phytomer has a reputation of leadership and expertise within the spa industry. With Phytomer meaning "plant of the sea," we utilize seawater, seaweed or seaside plants in every retail and professional product, combining science with the natural powers of the sea. We are one of the only spa brands with our own laboratory, allowing us to research and cultivate our own ingredients, develop unique cosmetic formulas, manufacture skin care products and create cutting-edge professional treatments to deliver remarkable results.