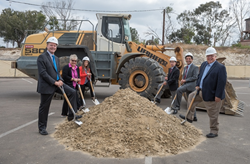 "The development of Luna represents the essence of affordable housing; affording low income families the ability to live where they work and play." Sydney Cordova, Project Manager, Affirmed Housing
San Diego, CA. (PRWEB) September 20, 2017
Affirmed Housing celebrates the beginning of construction on 79 one, two, three and four-bedroom affordable apartment homes in Carmel Valley. Offering rents between $851 - $1582, Luna will rent to those who earn 50%-60% Area Median Income (approximately $32,000- $72,000). Comprised of two four-story, elevator-served, residential buildings, on site amenities will include a community room, leasing office, computer room, laundry facilities and private apartments will offer a patio or balcony.
Funding includes bonds issued through The San Diego Housing Commission, and financing provided by Banner Bank & Bank of America Merrill Lynch. Development partners include Wermers Multifamily, Architects Orange, Latitude 33, and GMP Landscaping. Luna will offer residents a stellar location for an extremely affordable price.
"As Affirmed Housing celebrates 25 years in affordable housing, this new development is a prime example of the necessity of affordable housing. Luna will provide housing for the local workforce in a neighborhood normally unaffordable to those of lower income." James Silverwood, President and CEO.
Headquartered in San Diego, Affirmed Housing Group is dedicated to improving and sustaining the viability of California through the development of affordable housing. The company aims to enhance communities and our environment by building professionally-managed, high-quality, green, multifamily, senior and homeless housing. For more information, visit http://www.affirmedhousing.com/projects/luna/index.html