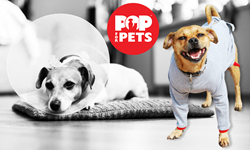 San Diego, CA (PRWEB) September 21, 2017
Jimmy and Robyn Smith, Owners and inventors of the "Post Operative Protection" Shirt for dogs were saddened after receiving information about the number of hurt, homeless and anxious family pets that were displaced from their homes in and around Houston due to Hurricane Harvey. Knowing that their POP Shirts could be instrumental in the healing and recovery of injured dogs, as well as serving as an aid to relieving anxiety in dogs, the Smiths contacted Dallas DogRRR, (http://www.dallasdogrrr.org.) Dallas DogRRR has been instrumental in helping to get medical attention, food, shelter, and temporary homes for these pets while they try to locate their families. Representatives from Dallas DogRRR were pleased to hear about the POP Shirts and enthusiastically accepted the donation. POP for Pets immediately freighted a collection of multiple shirts in four sizes to the organization. The POP Shirts are washable and reusable so the donation should assist a large number of pets while they are in this difficult time.
Robyn Smith, owner and inventor of the POP for Pets shirt, said, "I am both honored and humbled that our POP Shirts can go to such a worthy cause. There has been so much devastation throughout the Houston area that any little part we can play in helping to relieve some of the burden of these tireless volunteers and their patients is our pleasure to do so. We hope our POP Shirts can bring effective healing and relief to these poor pets.
Dallas DogRRR rescues abandoned dogs straight off the streets and rescues dogs that are set to be euthanized from high-kill shelters. All of the dogs in their care receive basic vetting to major medical procedures and long term care. Dallas DogRRR does not have a facility, and all of their dogs live in foster homes.
POP for Pets, LLC is located in Oceanside California, a suburb of San Diego. Their Post Operative Protection shirts were created to eliminate the need for the "Cone of Shame" for pets recovering from surgery or experiencing skin irritations or allergies. All of their POP Shirts are available online at Amazon.com.
###