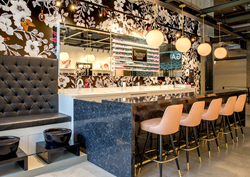 As a brand, we are dedicated to innovation and putting a unique spin on everything we do.
Seattle, Washington (PRWEB) September 20, 2017
butter LONDON, the prestige color cosmetics and nail lacquer brand, is opening a new flagship store, the butter LONDON Nail Bar, located in Seattle's thriving South Lake Union neighborhood. The 537-square-foot space will offer signature waterless manicures and pedicures in a cocktail bar inspired space, consisting of eight service chairs, and will also retail the brand's full makeup and nail product assortment. Not your typical nail salon, the butter LONDON Nail Bar introduces a unique beauty experience with the brand's cheeky touch.
The new space is located in The Hall at 400 Fairview, a dynamic space designed to capture the spirit and energy of Seattle that is quickly becoming a premiere market hall destination offering everything from shops, bakeries and restaurants. The Nail Bar was designed by Seattle-based interior designer Leah Steen in a sophisticated palette of white, black, and soft peach, and features modern brass fixtures and an accent wall showcasing butter LONDON's iconic brand wallpaper.
"We couldn't be more excited to debut our new flagship location in our hometown of Seattle," says butter LONDON President, Sarina Godin. "As a brand, we are dedicated to innovation and putting a unique spin on everything we do. When we were concepting the new store, we wanted to break the mold of traditional nail salons and create an unforgettable butter LONDON experience in a stylish environment where women can have fun and get pampered together."
butter LONDON is known for pioneering the original 3-Free lacquer and has continued to bring good-for-you, high-performance formulations, now offering only 8-Free nail products and color cosmetics that adhere to the brand's rigorous Crafted with Care Credo™. They have taken this philosophy to their services by developing a one-of-a-kind waterless manicure that doesn't require water and cuticle clipping to ensure a longer lasting, healthier manicure.
"Not all ingredients are created equal. That's why at butter LONDON we use only the highest quality ingredients to meet our performance standards and give you high-impact color you can count on," said Godin. "We strive to make sure our formulations and services are safe, effective, and skin-pampering."
Manicure and pedicure services at the salon will include The Quickie (a simple polish change for those in a time crunch), Bread & Butter (a restorative treatment featuring Sheer Wisdom Nail Tinted Moisturizer), Bloody Brilliant Color (a traditional, full service offering), The Full Monty (the most luxurious option for those with a little more time), The Proper Gent (an invigorating service designed for men), and for those under 12, the Lil' Dahling. Guests will be invited to indulge in complimentary beverages and makeup touchups during their nail appointments
Store Details
butter LONDON Nail Bar
400 Fairview Avenue N, Seattle WA 98109
Store Hours: Monday – Saturday: 10 a.m. - 6 p.m. PST
Appointments can be booked online at http://www.butterlondon.com/nailbar, through the butter LONDON Nail Bar app, or by calling 206.362.1454.
About butter LONDON
Founded in 2005 by a beauty-obsessed British entrepreneur and London's premier fashion manicurist, butter LONDON catapulted into the runway world bringing a refreshingly hip & haute fashion sense to nails. This trailblazing luxury approach – fueled with a better-for-you ingredient philosophy – quickly made butter LONDON the first world-renowned, high-fashion 3-Free nail lacquer brand. Today, we continue to create innovative, imaginative, good-for-you products for eyes, lip, face, and nail using the same ingenious Crafted with Care™ approach to formulations. We believe playful is beautiful and we encourage you to live a little with lively, luxe products you can trust. We are makeup royalty…and we wear it very well. For more information on butter LONDON, visit http://www.butterlondon.com.