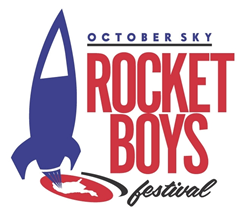 Beckley, WV (PRWEB) September 20, 2017
The Rocket Boys/October Sky Festival is coming to Beckley, West Virginia this week, featuring best-selling author Homer Hickam and his fellow Rocket Boys.
The Rocket Boys Festival's central location is Beckley's New River Park, which boasts an authentic exhibition coal mine that will be open for discounted tours, taking riders on a motorized tour 1,500 feet underground. The park also features an award-winning youth museum and planetarium, great Appalachian food, a complete full-size replica of a 1950s mining town similar to Coalwood, a miner's museum and more. Several events, including all the film screenings, will take place at New River Community & Technical College's Erma Byrd Center.
Celebrating the 30th Anniversary of the release of the horror cult classic "Chillers" by filmmaker Daniel Boyd is the centerpiece of the Rocket Boys Film Festival that kicks off the week of celebrations Tuesday, Sept. 19. The film festival includes Boyd's "Chillers," "Strangest Dreams: Invasion of the Space Preachers," and "Paradise Park" along with the featured event, a screening of "October Sky" Friday, Sept. 22.
Fans of Homer Hickam's New York Times #1 best-seller "Rocket Boys" and the movie version "October Sky" will have several opportunities to meet the actual Rocket Boys: Hickam, Roy Lee Cooke, Jimmy "O'Dell" Carroll and Billy Rose. On Friday, Sept. 22, there will be a late lunch with the Rocket Boys plus a Meet and Greet before the screening of "October Sky" that evening.
On Saturday, Sept. 23, attendees can participate in a highlight of the annual Rocket Boys Festival, the writers workshop that's hosted by Homer Hickam for aspiring and seasoned authors. Then participants can stick around for a Meet and Greet with Hickam as well as book signings from other notable writers including Daniel Boyd, author of the eco-thrillers "CARBON," "SALT."
One of the Rocket Boys Festival signature events gives dozens of students from schools all over America the opportunity to join Homer Hickam and the other Rocket Boys to launch rockets at New River Park's hilltop "Cape Coalwood" launch pad. Rocket kits and launch supplies will be available for sale at the festival. Construction and launch is easy – even for first timers.
More information on the Rocket Boys/October Sky Festival, including a complete schedule of events and lodging information, is available online at http://www.rocketboysfestival.com. The city of Beckley is located on Interstate 64 in southern West Virginia, and is also accessible via Beckley/Raleigh County Airport and Amtrak service on the Cardinal line.
For media interview requests before the event with Rocket Boys Homer Hickam, Roy Lee Cooke, O'Dell Carroll or Billy Rose, or author Daniel Boyd contact: Allen Media Strategies Burke Allen at (703) 589-8960 or by email burke(at)allenmediastrategies(dot)com