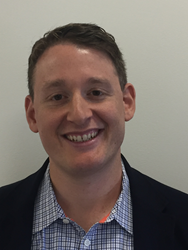 "Micah's expertise in sample preparation and successful product launches across the clinical workflow will be invaluable." Preora President & CEO John Hart
Evanston, IL (PRWEB) September 20, 2017
Preora Diagnostics Inc., a privately held medical technology company developing low-cost and highly accurate cancer screening tests, today announced the expansion of its management team with the hiring of Micah Litow as chief marketing and business development officer.
Micah brings to Preora Diagnostics broad expertise commercializing products in the medical device and diagnostics markets. Prior to joining Preora, Micah led the healthcare practice at Chicago-based IA Collaborative, where he directed engagements with Fortune 500 clients in the biotech, device/diagnostic, provider and payer healthcare sectors.
Previously, as director of Innovation at Leica Biosystems, a leading global healthcare corporation supporting pathology laboratories and researchers, Micah's responsibilities spanned global strategy development to the identification of promising early-stage technologies to the planning and execution of new product launches Additionally, Micah authored and implemented Leica Biosystems' first translational medicine process for novel cancer diagnostic assays. Earlier in his career, Micah served as senior mechanical design engineer at Medtronic, one of the world's largest medical technology companies.
"The breadth and depth of Micah's experience will enable Preora to commercialize and grow the diagnostic tests that we expect will revolutionize the early detection of several cancers," said Preora Diagnostics President and CEO John W. Hart. "In addition, his expertise in sample preparation and successful product launches across the clinical workflow will be invaluable as we prepare for commercialization of our novel sample preparation products and other innovations."
"Both on a personal level and professionally, my passion is to be a leader in the fight against cancer," Micah said. "The opportunity to join Preora at this stage in the company's evolution, commercializing a technology platform capable of identifying cancer at the earliest stages when treatments are known to be more effective, is the most exciting venture of my career."
Micah holds an MBA from Northwestern University's Kellogg School of Management, and a Master's in engineering and management and a BS in biomedical engineering from Case Western Reserve University. He holds three patents, with an additional three patents pending, and he has co-authored five articles published in peer-reviewed journals.
About Preora Diagnostics
Preora Diagnostics Inc. is dedicated to helping people survive cancer through a proven, two-tiered approach to early detection. The company develops proprietary, low-cost, minimally invasive and highly accurate cancer screening tests by detecting and measuring cellular changes at the nanoscale level. The screening tests are based on the proprietary Partial Wave Spectroscopy (PWS) Nanocytology platform, licensed exclusively by Preora through ISO 13485-certified NanoCytomics, LLC and Northwestern University. The Wall Street Journal has named PWS Nanocytology as one of "Six New Medical Technologies Worth Watching," and Corporate LiveWire honored the company with its international "2016 Best in Cancer Diagnostics" award. For more information, visit http://www.PreoraDx.com.