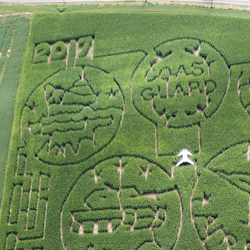 "This year we chose to honor the men and women who have committed to protect our country and our way of life." - Jeff and Teresa Greenwood
Frederick, Maryland (PRWEB) September 22, 2017
Summers Farm will celebrate America's military service men and women, their commitment, dedication and sacrifices this Fall season with discounted admission, a military themed corn maze and activities. Military members, veterans and their families will receive a 20% discount on admission for the entire season. Summers Farm, located in Frederick County, Maryland, is a 100-acre multi-generational farm open daily September 23 – October 31.
"America's Super Heroes" depicts images of the five branches of the United States Armed Forces – Air Force, Army, Coast Guard, Navy and Marines. Designed within 12 acres of 9-foot tall corn, the extensive maze pays homage to America's rich military tradition and those who have accepted the honorable commitment of military service. This year's themed maze offers guests two distinct paths, a simpler stroll through the corn or one filled with more challenging twists and turns.
Service members and veterans will be honored opening weekend, September 23 -24, during HEROES WEEKEND. Active duty members and veterans of the United States Armed Forces and First Responders (EMTs, firefighters, police) will receive free admission with valid identification. Immediate family members will be admitted at half price.
Summers Farm is partnering with Operation Gratitude, a volunteer-based non-profit organization that annually sends 100,000+ care packages filled with snacks, entertainment, hygiene, hand-made items, and personal letters of appreciation to New Recruits, Veterans, First Responders, Wounded Warriors, Care Givers and U.S. Service Members deployed in hostile regions. A letter writing station will allow visitors to write personal letters to service men and women. Visitors will also have the opportunity to purchase American flags with 100% of the proceeds donated to Operation Gratitude. Summers Farm's goal is to raise $12,000 for the organization.
Summers Farm owners, Jeff and Teresa Greenwood, welcome thousands of visitors annually. The 2017 season will showcase 45-plus activities including – live entertainment, Friday and Saturday fireworks, farm fresh food, pig races, jumping pillows, giant slides, wagon rides, pick-your-own pumpkins and more. New to the farm this year are the Marvelous Mutts Dog Show, Corny's Wood-fired pizza and two new activities – Lil' Barnyard Ball and Round Bale Rollers.
"For the past 21 years, old-fashioned activities like pumpkin picking and wagon rides have enticed families near and far to come back time and time again creating life-long memories. We embrace the American farming tradition here at Summers Farm," said Teresa Greenwood. "This year we chose to honor the men and women who have committed to protect our country and our way of life."
To find out more, contact Summers Farm, located at 5620 Butterfly Lane in Frederick, at 301-620-9316, or visit summersfarm.com, Facebook or Instagram for special events, hours of operation, and directions.