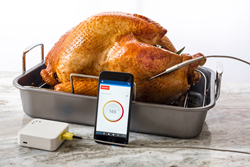 We believe K-Mometer is a game changer for monitoring slow cooked meats like turkey from start to finish. It takes the guesswork out of the cooking process and makes it an exact science.
San Francisco, CA (PRWEB) September 20, 2017
Konnected Widgets showcases K-Mometer(TM), a smart Wi-Fi enabled cooking thermometer at TechCrunch Disrupt San Francisco. Attendees may come to the Konnected Widgets booth in the IoT section of Startup Alley to check out the product in action, where they may also quiz Alexa about the internal temperature of the food that would be monitored by K-Mometer.
"We're thrilled to have the opportunity to showcase the innovation behind K-Mometer at TechCrunch Disrupt, helping people understand its importance in the fight against foodborne illnesses due to undercooking, and using it as a platform to help promote overall awareness about food safety issues with cooking meats such as poultry", said Founder and CEO, Zin Thein Kyaw. "1 in 6 Americans become ill every year from foodborne illnesses, yet about only half of American households own any kind of food thermometer. Furthermore, we don't really know how many people use them or how they use them. Our vision is that K-Mometer will allow food thermometer usage to become second nature in every American household and organization where food is prepared, and along with the insights that are gained, help put a significant dent in lowering this statistic and its economic costs by 2020."
The K-Mometer is unique in its class, offering standard Wi-Fi connectivity, an integrated industry standard Type K thermocouple sensor, and probe, at an affordable price. The Type K thermocouple allows it to sense very high heat temperatures for up to 24 hours, making it possible to cook a turkey or smoke BBQ meats from start to finish. Competitor devices use probes that will be damaged by moisture after repeated exposure to high heat, and some probe cables will even melt in the process, making it costly and frustrating for the consumer to keep replacing them.
"We believe K-Mometer is a game changer for monitoring slow cooked meats like turkey from start to finish. It takes the guesswork out of the cooking process and makes it an exact science. K-Mometer lives at the intersection of food science and technology, making it possible even for the most inexperienced of chefs to deliver perfect meals, the first time, every time."
The K-Mometer can be pre-ordered via its Indiegogo campaign and ships Fall 2017. The first 250 backers will receive it an early bird price of US$69.
About Konnected Widgets
Headquarted in Silicon Valley, Konnected Widgets' mission is to create connected devices that are affordable, solve real world challenges, and drive social change. For more information, visit https://www.konnectedwidgets.com and its social media outlets:
Blog: https://konnectedwidgets.tumblr.com/
Facebook: https://www.facebook.com/konnectedwidgets
Twitter: https://www.twitter.com/KWidgets
Instagram: https://www.instagram.com/konnectallthewidgets/
Youtube Channel: https://www.youtube.com/watch?v=x8MJSry5MPs
About TechCrunch Disrupt
TechCrunch Disrupt SF 2017 is TechCrunch's 11th annual conference in San Francisco. The format combines top thought-leader discussions with new product and company launches. Morning executive discussions debate technology-driven disruptions in many industries, while the afternoons are reserved for the Startup Battlefield, where 20+ new companies will launch for the first time onstage, selected to present from numerous applications received from around the world. The winning company will receive a $50,000 grand prize and the Disrupt Cup at the conclusion of the conference. The conference is September 18-20th, 2017 at Pier 48 in San Francisco.
Contact
Zin Thein Kyaw
330 Crescent Village Circle, #2216
San Jose, CA 95134
Phone: (650) 861-9368
E-mail: konnect(at)konnectedwidgets(dot)com
###