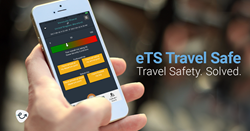 eTS Travel Safe leverages AI technology to ensure you know where your people are, anywhere in the world.
(PRWEB UK) 25 September 2017
eTravelSafety brings to market the most innovative Travel Safety solution in the world; eTS Travel Safe.
eTS Travel Safe leverages AI technology and real-time data to provide businesses and organizations with all the information they need to know whether their employees are safe to travel anywhere in the world.
Unlike other Travel Safety solutions available in the marketplace, eTS Travel Safe is completely tailored to the individual traveler, providing unique, personal travel risk assessments for each traveler, and for every country across the globe.
With no contracts or set-up fees, eTS Travel Safe is available from just £0.50 per user, making it the most cost-effective Travel Safety solution to date.
To find out more information, and to book your demo of eTS Travel Safe, visit eTravelSafety's website, or contact hello(at)etravelsafety(dot)com.
eTravelSafety sits at the forefront of innovation within Travel Safety, and is quickly becoming a recognized influence within the industry. Wielding decades of experience in both Travel Safety and technology, eTravelSafety are using cutting-edge technology to provide Travel Safety for everyone - anywhere, in any situation, on any device.