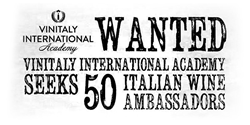 "The title of IWA is that edge that will be useful when mentoring future sommeliers and consumers to both educate and open their minds to the wines and regions of Italy", says Brandon Tebbe MS.
(PRWEB) September 21, 2017
Vinitaly International Academy (VIA) will launch its Certification Course in San Francisco, USA, to be held from October 16th to the 20th at the largest wine school in the U.S., the San Francisco Wine School. This is the fourth stop of a world VIA tour that saw fantastic responses from the candidates in NYC this June, and in two Chinese cities, Beijing and Shanghai this September. This cross-continental VIA tour will allow all wine professionals from USA and China to come together and further deepen their knowledge about the fascinating, if at times complex, world of Italian wines.
The enthusiasm for wine in the U.S., especially in California, shows no signs of stopping or slowing down. According to the Wine Institute, wine shipments to the U.S. from all production sources in California, other U.S. states, and from abrod grew to 399 million cases in 2016. This growth corresponds to an increase of 3% (an estimated retail value of nearly $60 billion) compared to 2015. The U.S. has remained the world's largest wine market by volume since 2010. Within the U.S., California is a distinct state for its production that is, by far, the largest among all states. California's 238 million cases shipped within the U.S. in 2016 represent a 60% share of the U.S. wine market.
Stevie Kim, the Founder of Vinitaly International Academy, speaks of VIA's interest in the U.S.: "It's not by chance that after three editions in Italy, the first two countries to hold the courses are the USA, the largest market for Italian wines, and China, a market with the greatest potential growth in the future." However, what distinctive characteristics does Italian wine have to offer compared with wines from other parts of the world? Kim, who also is the creator of the recently published e-book Italian Wine Unplugged Grape by Grape about Italian wine biodiversity, continues, "Do you know how diverse the category 'Italian wines' can be? With 500 plus officially recognized indigenous grape varieties and more being discovered practically everyday, Italy has more native grapes in its national territory than any other country in the world. Given its proximity to the Gotham of Californian wine, San Francisco is the perfect setting where wine professionals and lovers are willing to engage with and explore diverse types of wines."
Brandon Tebbe (MS) is one of the candidates that will take up the challenge to become an Italian Wine Ambassador (IWA) this October in San Francisco. "The title of IWA is that edge that will be useful when mentoring future sommeliers and consumers to both educate and open their minds to the wines and regions of Italy", says Tebbe.
E.J.Gallo have designated 4 wine professionals as candidates to attend the course in order to leverage this opportunity to increase their understanding of Italian Wine. "We are excited to have VIA courses as our new level of certification for our company (waiting for a quote like this from Kristina now)", confirms Kristina Kelly, Senior Director of Public Relations at E.J. Gallo. Earlier this spring, Nicholas Paris MW and Director of Global Sourcing at E.J. Gallo had already participated in the Verona edition of the course and successfully became an IWA.
No other international certification program offers this kind of comprehensive study of Italian wines at the moment. Understandably so, as the wines made from native grapes remain largely obscure within each regions. Even for the Master of Wine or the Master Sommelier programs, Italy, despite ranking as the world's largest wine producing country, remains somewhat of an enigma and an untapped area for the discovery of intriguing new wines.
One of the strong advantages and much loved aspects of VIA is the fact that it gives students the opportunity to taste and learn about small-volume, artisanally produced wines that are not just archetypes of the Italian grape varieties they are made with, but that are also virtually impossible to find in their home markets. This asset, coupled with the unique opportunity to be taught by Dr. Ian D'Agata, author of Native Wine Grapes of Italy (winner of the 2015 Louis Roederer International Wine Book Awards as Book of the Year), makes the VIA certification course an absolute must for anyone committed to learn about Italian wine at diploma and degree level."Italian wine is fascinating and extremely complex. This wealth of grape varieties is Italy's biggest asset and is what makes drinking Italian wine much more fun. VIA gives all wine professionals the tools to enjoy and deepen knowledge in Italian wines, as well as providing a culturally interesting learning experience", explains D'Agata.
Today VIA boasts 108 Italian Wine Ambassadors, 7 of which are Italian Wine Experts (the higher qualification): they all play an important role in amplifying the knowledge of Italian wine in their respective countries. (http://www.vinitalyinternational.com/vinitaly-international-academy/expert-ambassador) "With each additional IWA, VIA looks to further expand its Italian wine community all around the world, and I must say so far it's looking pretty promising." confirms Kim.
For more details about the San Francisco edition of the Certification Course see: http://www.vinitalyinternational.com/vinitaly-international-academy/certification-course/sanfrancisco2017
About:
Veronafiere is the leading organizer of trade shows in Italy including Vinitaly (http://www.vinitaly.com), the largest wine and spirits fair in the world. During its 51th edition Vinitaly counted more than 4,270 exhibitors on a 100,000+ square meter area and 128,000 visitors from 142 different countries with more than 30,000 top international buyers (up by 8%). The next edition of the fair will take place on 15 - 18 April 2018. The premier event to Vinitaly, OperaWine (http://www.operawine.it) "Finest Italian Wines: 100 Great Producers," will unite international wine professionals on April 14th in the heart of Verona, offering them the unique opportunity to discover and taste the wines of the 100 Best Italian Producers, as selected by Wine Spectator. Since 1998 Vinitaly International travels to several countries such as Russia, China, USA and Hong Kong thanks to its strategic arm abroad, Vinitaly International. In February 2014 Vinitaly International launched an educational project, the Vinitaly International Academy (VIA) with the aim of divulging and broadcasting the excellence and diversity of Italian wine around the globe. VIA this year launched the third edition of its Certification Course and today counts 108 Italian Wine Ambassadors, 7 of which are Italian Wine Experts who have achieved the higher certification.