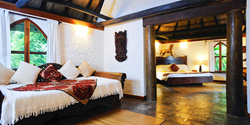 there's certainly nothing scary about the price
San Ignacio, Belize (PRWEB) September 22, 2017
The Lodge at Chaa Creek has just made October one of the best times to visit Belize with a month long offer that makes a stay at the premier eco-luxe jungle lodge less expensive then a night at many budget hotels, according to the popular jungle lodge's reservations administrator.
And, in a nod to Halloween, the eco-resort is also honouring Belize's rich folklore and cultural traditions with a month-long highlight of the country's legendary sprites, goblins and forest nymphs, she added.
Elsie Pacheco said she just posted an offer that allows travellers to experience Chaa Creek's famously casual rainforest luxury with accommodations, amenities and activities that include guided tours and river canoeing for under a hundred US dollars a night.
"With Thanksgiving, Christmas, New Years and other holidays becoming more popular each year, we thought it's time to introduce people to a Belizean Halloween or to just experience October's charms with surprise discounts that make a stay at The Lodge at Chaa Creek less expensive than many budget accommodations," she explained.
"A very affordable Belizean vacation is a good incentive to take advantage of the lovely autumn weather and perhaps surprise the family or that certain someone with some rainforest luxury and adventure before winter sets in up north," she added.
Chaa Creek's October Super Saver Surprise is a limited time, October 2017 offer that includes accommodations in the beautifully appointed Cottage Collection along with guided tours of the onsite Belize Natural History Museum, Butterfly Farm and Maya Medicinal Plant Trail, canoeing on the tranquil Macal River, guided morning birding excursions and nature walks through tropical gardens and miles of trails crisscrossing the eco-resort's 400-acre private nature reserve.
Cha Creek's amenities include the Mariposa Restaurant and Jungle Lounge featuring farm-to-table dining sourced from the traditional Maya organic farm and fresh seafood from Belize's Caribbean coast, as well as the internationally recognised Hilltop Spa, an infinity pool, horseback riding and more.
And in the spirit of Halloween, Chaa Creek's naturalist guides will be on hand throughout the month to introduce guests to Belize's rich Maya, Mestizo, Garifuna and Creole folkloric traditions with a cast of forest spirits, sprites and temptresses said to inhabit the jungle.
For centuries Maya and Belizean children (and many adults) have been on the lookout for Tata Duende, a small forest dweller with front-to-back feet, no thumbs, and a cantankerous attitude.
More fearsome, especially for males of a certain age, is Xtabai, traditionally described as an insatiable jungle nymph whose irresistible allure has lured many a hapless wanderer into the forest expecting to find love, only to meet a tragic end.
And for the ladies there's Sisimito, a tall, hairy Bigfoot type also pining for love who, legend has it, kidnaps women after dark and spirits them away to his cave.
Less fearsome, but also effective in keeping children from wandering in the forest is La Llorona the Weeping Woman whose plaintive wail as she searches for her own lost children can be heard at night.
Ms Pacheco said these spooky tales and more, including opportunities for trick or treating and prizes for best costumes will be on hand Halloween night.
There are many other reasons to enjoy an October holiday in Belize, she added. With temperatures ranging between 84°F (29°C) and 75°F (24°C), the weather is perfect for swimming, nature walks and other outdoor activities, the ancient Maya temples, monuments and other attractions are less crowded than in high season, flights are easy to find, and there's an abundance of fresh produce for Belize's increasingly sophisticated foodie culture.
And, of course, there's the opportunity to enjoy one of Belize's most highly regarded and awarded eco-resorts for the price of much less luxurious accommodations.
"All things considered, October is one of my favourite months, and with Chaa Creek's Super Saver offer, it's now the most affordable time of the year to come and see why Belize has become such a popular travel destination in recent years," Ms Pacheco said.
"Whether you come for Halloween or not, there's certainly nothing scary about the price," she added.
The Lodge at Chaa Creek is a multi-award winning eco resort set within a 400-acre private nature reserve along the banks of the Macal River in Belize. It was recognised by National Geographic with first place honours at the 2017 World Legacy Awards held in Berlin.
ENDS