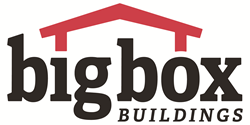 "We are excited to be a part of the Nucor Building family and offer advanced building system technologies, products and expertise to the local construction marketplace with an affordable pricing strategy," said John Harvey, principal, Big Box Buildings
Newport, DE (PRWEB) September 21, 2017
Harvey, Hanna & Associates and Nucor Building Systems, a leading manufacturer of custom-engineered metal building systems, are pleased to announce the addition of Big Box Buildings (Newport, DE) as an Authorized Nucor Builder.
By partnering with Nucor Building Systems, Big Box Buildings is now able to offer its customers a wide array of high-quality building solutions that are custom designed, yet cost-effective, energy efficient, and faster to erect than conventional construction methods.
"We are proud to welcome Big Box Buildings to Nucor Building Systems Authorized Builder Network," said Bruce McCardle, District Sales Manager of Nucor Building Systems. "Big Box Buildings is committed to providing superior service to clients in the mid-Atlantic region and expanding their capabilities to include Nucor systems allows them access to the latest in energy efficiency, design flexibility, and structural stability."
"We are excited to be a part of the Nucor Building family and offer advanced building system technologies, products and expertise to the local construction marketplace with an affordable pricing strategy," said John Harvey, principal, Big Box Buildings.
Based in Newport, Delaware, Big Box Buildings is a general contractor specializing in commercial buildings throughout the mid-Atlantic region. Big Box joins the local commercial real estate development firm Harvey, Hanna & Associates, Inc. (HHA) family of businesses and will operate out of HHA's headquarters in Newport. Big Box Building's initial construction project is HHA's new 100,000 square foot industrial development at 10 Dockview Drive located within the Delaware River Industrial Park (New Castle, Delaware). Construction activity at 10 Dockview Drive has started. Big Box Buildings is also pleased to announce the addition of Mike Weyant as Big Box Buildings new Construction Manager. For more information on Big Box Buildings, visit: http://www.BigBoxBuildings.com
About Nucor Building Systems
Nucor Building Systems, a division of Nucor Corporation, has been a leader in the design and manufacture of custom-engineered metal building systems for more than 25 years. With four full-service plants strategically located throughout the country (Waterloo, IN; Swansea, SC; Terrell, TX; and Brigham City, UT), Nucor Building Systems offers competitively priced buildings that are delivered on time and fit together in the field, with unbeatable service and solutions that work. All Nucor products are engineered, fabricated and detailed in the United States. For more information about Nucor Building Systems, visit http://www.nucorbuildingsystems.com.
About Big Box Buildings
Big Box Buildings offers a wide array of custom, pre-engineered steel building systems from Nucor Building Systems. Big Box Buildings provides cost-effective, customizable building solutions for customers throughout the mid-Atlantic region. As an authorized builder and distributor for Nucor Building Systems, Big Box Buildings provides affordable solutions across several industries and building types. These solutions are perfect for a wide array of commercial buildings including: agriculture, warehouse, storage, commercial, education, energy. Big Box Buildings: http://www.bigboxbuildings.com