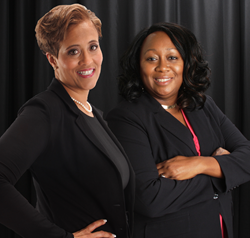 Santa Ana, CA (PRWEB) September 20, 2017
Two Southern California business leaders and entrepreneurs – Janis Moore and Lisa Holmes – are pleased to announce the launch of their new business and sales coaching company, The Growth Coach of Greater Santa Ana.
The Growth Coach is the largest provider of affordable group coaching workshops in the nation. Moore and Holmes offer group coaching workshops for business and sales professionals as well as a variety of one-on-one services. The Growth Coach of Greater Santa Ana serves the cities of Santa Ana, Irvine, Tustin, Silverado, San Bernadino and Riverside County in Southern California.
"Lisa and I are experienced business leaders and we understand many of the challenges our clients are facing. As Growth Coaches, we can be there as thought partners to help them make positive changes both in their businesses and in their lives," Moore said. "We are looking forward to adding value to the Southern California business and professional community by serving as speakers, coaches and subject matter experts on a variety of business- and leadership-related topics."
Moore, the President and CEO of The Growth Coach of Greater Santa Ana, has more than 30 years of experience as a business leader within Fortune 100 corporations and non-profits in the retail, transportation and technology fields. She has undergraduate degrees in mathematics and engineering as well as a Master's degree in business administration. She also has a Leadership Excellence certificate from Cornell University, a SPIN Selling Certification from Southern Methodist University's COX School of Business, and a Business Excellence Certificate from Harvard Business School. She also has SHRM-SCP and PHR Certifications.
Holmes, who is serving as the Vice President of The Growth Coach of Santa Ana, has more than 30 years of human resources expertise as well as a Bachelor's and Master's degrees in Human Resources from Lindenwood University. Her broad function knowledge, strong business acumen and communicative style has made her the sought after Human Resources leader and coach for Fortune 100 companies, privately held businesses and start-up organizations within diverse industries.
"Janis and I each have a unique expertise we've built throughout the course of our careers. We both have a background in human resources and, in that role, you're often helping others in your organization work through certain business challenges. You become something of an impromptu coach. Over the years, that coaching piece became a big part of what we were doing every day. Now we're looking forward to using that experience to help business leaders of all sorts work through their own business challenges and built better, more balances lives," Lisa said.
As Growth Coaches, Moore and Holmes are certified in The Strategic Mindset coaching process, which adheres to the standards, practices and policies that the International Coaching Federation has set forth in their Code of Professional Standards and Ethics.
Moore and Holmes are also active in the community. Moore lives in Riverside and has three children – Gabriel, Kennedy and Kendall. She has been recognized repeatedly for her volunteerism and leadership with Alpha Kappa Alpha Sorority, Inc.; Jack and Jill of America – Atlanta and North Texas Chapters; Big Brothers Big Sisters – Lone Star; Girl Scouts of America; and Who's Who in Black America. She is currently on the board of The Inland Ivy Foundation serving Riverside and San Bernardino Counties. Holmes lives in Greater Los Angeles with her husband, James, and daughters Brea and Halle. Holmes has 30 years of experience in human resources and business ownership. She's a member of the Girl Scouts and serves in a leadership role with Jack and Jill of America – Santa Clarita/Antelope Valley Chapter.
The Growth Coach, founded in Cincinnati, Ohio, sold its first franchise in 2003, but its leaders have a successful 20-year track record of helping business leaders find success and balance. Today the business and sales coaching franchise is in more than 100 markets worldwide. The Growth Coach was included in Bond's "Top 100 Franchises" and recognized in Entrepreneur Magazine's "Franchise 500" and "Best of the Best," in USA Today and has been featured on FOX, CBS and NBC. The company's Strategic Mindset Process is so effective that it comes with a money-back guarantee.
For more information about how The Growth Coach of Greater Santa Ana can help you and your business, call 1-833-77-COACH(26224), email JMoore@TheGrowthCoach.com or LHolmes@TheGrowthCoach.com, or visit http://www.TheGrowthCoachGreaterSNA.com.
ABOUT THE GROWTH COACH
The Growth Coach was founded in Cincinnati in 2003 and is the only pure business and sales coaching franchise aimed at driving success while balancing the lives of business owners, managers, sales people, self-employed professionals and executives across a wide spectrum of businesses and industries. The Growth Coach specializes in group workshops and individual coaching with the goal of helping clients gain greater focus and leverage to work less, earn more and enjoy more fulfilling lives. The Growth Coach is active in more than 100 markets in the United States and abroad and is always looking to expand domestically and internationally. For more information about the company or the process of opening a business coaching franchise, visit http://www.TheGrowthCoach.com.