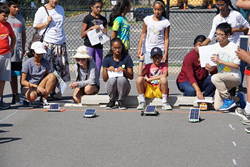 Vienna, VA (PRWEB) September 20, 2017
Students from Fairfax County Public Schools and Loudoun County Public Schools won awards at the 2017 Northern Virginia Junior Solar Sprint (JSS), a competition to design, build, and race model solar electric cars. The JSS was held September 16, 2017 at Marshall High School.
JSS aims to stimulate interest in science, technology, engineering, and math (STEM) for 5-8th graders. It is a satellite event of the USA Science and Engineering Festival and is sponsored by the U.S. Army Outreach Program. This year, Sajni Vederey, current 11th grade at TJHSST and the CEO and Founder of STEM All Stars, hosted the JSS, in cooperation with Young Scholars Circle, Electric Vehicle Association, Technology Student Association, and the U.S. Environmental Protection Agency. 
Each JSS team, consisting of two to three members, was tasked to design and build a model solar electric car and race against other teams. The students applied their knowledge of aerodynamic drag, rolling resistance, weight, and drive train to maximize their cars for speed and reliability. The race was a double elimination competition with awards going to the fastest three cars. Each winning team received a trophy, medals from STEM All Stars and EVA and gift certificates from Young Scholars Circle: $150 for all the team members who got first place, $100 for all the second place team members, $75 for all the third place team members and $50 for all the special awardees.
Junior Solar Sprint winners and all the JSS Virginia teams can compete again with more schools from Washington, D.C., and Maryland schools in the Greater DC Junior Solar Sprint in May 2018. For more information on our STEM events and tutoring, visit https://youngscholarscircle.com/.