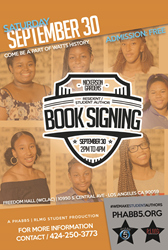 Our vision is to be a global leader in providing at risk youth an opportunity to excel in all aspects of life through the book publishing experience
Los Angeles, Calif. (PRWEB) September 26, 2017
The event hosted by PHABB5, sponsored in part by Housing Authority of the City of Los Angeles (HACLA) and the LAPD's Community Safety Partnership program, will include readings from the authors, photographs, book signings, and guest speakers, as well as DJ Eklipse spinning on the ones and twos.
Event Details
Date and Time: Saturday, September 30th from 2PM to 4PM
Location: Watts Labor Community Action Committee - Freedom Hall
Address: 10950 S Central Ave, Los Angeles, CA 90059.
About PHABB5
PHABB5, a non-profit organization, was birthed to train and publish student authors at both the middle and high school level. PHABB5's objective is to reverse the trend of illiteracy, reduce the high school dropout rate, and increase matriculation. Additionally, their vision is to be a global leader in providing at risk youth an opportunity to excel personally, academically, and professionally through the book publishing experience. To date, the program has trained and published more than 100 student authors by planting satellite student author book publishing programs at school sites and housing projects.
Founders of PHABB5, CJ and Rhea Miller's goal is to partner with others in building student author community book publishing centers all over the country.
According to CJ Miller, "Making student authors is our weapon to uniquely combat illiteracy."
Media Contact:
Geraldine Rietdyk (562) 826-3747
For more information on PHABB5:
CJ Miller (424) 250-3773
Or visit the website at:
http://phabb5.org/