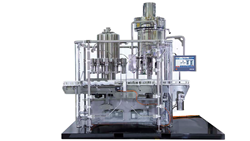 WAUKESHA, Wis. (PRWEB) September 21, 2017
Federal, powered by Pro Mach, introduces at Pack Expo, September 25-27 in Las Vegas, the XACT-FIL™ weight filler – Federal's next generation line of weight filling systems. Since 1946, Federal has been providing durable, dependable and hygienic rotary filling systems for free-flowing liquids. (Federal Pack Expo Booth # C-3414)
"The XACT-FIL™ platform is major step forward for weight-based filing technology" said Cezary Mroz, Federal's director of engineering. "This new platform is foundational to a full line of machines optimized for five different industries - hygienic beverage and food products, paint, agricultural chemicals, automotive lubricants, and personal care. Filling operations in these industries will benefit from the accuracy, ease of use, and space efficient footprint of these new fillers."
The new Federal platform design reduces filler footprints by approximately 30% depending upon the configuration of the filler. Along with this space efficient design the XACT-FIL platform uses 25% fewer parts which simplifies operation, reduces maintenance and reduces the complexity of the machine's construction.
Machines in this new line feature advanced controls that deliver high-speed and superior weight-based accuracy. Open source software is utilized to enable customization and to simplify technical support. The control system features readily available off-the-shelf components with global availability. These off-the-shelf components avoid costly and inflexible black box solutions. The platform's intuitive human machine interface (HMI) is designed for ease of operation and quick troubleshooting.
A three-axis servomotor drive train which includes Federal's exclusive Accu-Cycloidal™ gearing system ensures smooth operation, ultra-low vibration and reduced maintenance requirements. Specialized drive-axis clutches prevent machine damage in case of a fault and enhance overall machine safety.
These new weight-based fillers are hygienic and easy to clean. They feature wash-down rated individual load cell enclosures, frameless upper guarding with easy-to-clean hinges and a tabletop with only five bore shafts. The overall design minimizes harborage points where liquid or debris might accumulate. Optional laser scanner-based safety guarding also enhances ease of cleaning.
Stop by the Federal's booth at Pack Expo, Booth # C-3414 to see the XACT-FIL™ platform in person. For more information on new Federal weight-based filing machines and the full range of the company's filing and capping solutions, call 844-212-1704 or visit http://www.federalmfg.com.
About Federal
Federal Mfg. has been providing durable, dependable and hygienic rotary filing systems for free-flowing liquids since 1946. Federal offers both level and weight filing systems. Federal level filling systems are used for milk, juice, iced tea, yogurt drinks, kefir, laban, jug bottled water and kidney dialysis fluids. Federal weight filers are ideal for paint, agricultural chemicals, and automotive lubricants and 3-A hygienic models are used for fluid milk, edible oils, sauces and extracts. Federal's filling systems can include rinsing, filling, capping and cleaning capabilities and components. Federal offers aftermarket parts and field service support for every Federal filler ever manufactured.
About Pro Mach
Pro Mach is a leading provider of integrated packaging and processing products and solutions for food, beverage, consumer goods, pharmaceutical, and other diverse companies. Through multiple brands, Pro Mach provides product packaging and processing equipment, PMMI certified trainers, installation, parts, and service in Bottling & Capping, Primary Packaging, Pharmaceutical Packaging, Flexible Packaging, Material Handling, Labeling & Coding, and End of Line, as well as Integrated Solutions for complete packaging lines.
Pro Mach has a diverse customer base, from Fortune 500 companies to smaller, privately held businesses worldwide, which depends on reliable, flexible, technologically advanced equipment and integrated solutions. Pro Mach is headquartered near Cincinnati, Ohio, with manufacturing facilities and offices throughout the United States, Canada, Mexico, Europe, United Arab Emirates, and China. For more information about Pro Mach, please visit http://www.ProMachInc.com.