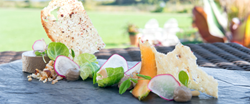 "Vegan dishes answer both ethical and health concerns but are also surprising, delectable and completely satisfying." Sea Glass Chef Andrew Chadwick
Cape Elizabeth, Maine (PRWEB) September 22, 2017
Vegan dishes even loyal carnivores love!
Chef Chadwick celebrates delicious healthy & ethical eating in Sea Glass Restaurant at Maine's luxurious Inn by the Sea
Vegan dishes are trendy at Inn by the Sea! According to Vegan Food and Living, Google searches for plant based diets have taken over the top search spot, leaving 'gluten free' behind, and last year Google Trends saw a 90% increase in 'vegan' searches. At Sea Glass, the ocean view restaurant at Maine's luxurious Inn by the Sea, Chef Andrew Chadwick celebrates healthy and ethical eating with vegan menus even loyal carnivores love.
"The appeal of vegan menu options has grown well beyond the traditional guest who avoided meat for ethical or environmental reasons to include much broader interests in healthy lifestyle trends," said Chadwick. "It's long past time to toss outdated myths that eating in a healthy and mindful way is boring; in fact, complete vegan meals tend to be deliciously creative. Chefs are combining fresh plant based ingredients, whole foods and a variety of vegetable pastas, grains and globally inspired sauces. Menus are fresh, inventive, packed with surprising flavors and great for one's health."
Whether you are a vegan committed to sustainable and ethical food sourcing, a once a week 'Meat Free Monday' fan, or simply concerned about the impact of meat consumption on your health, you can trade your lust for meat for one of Chef Chadwick's delicious vegan menu offerings.
Plant-based meals pair well with borrowed flavors from now mainstream Mexican, Chinese, or Greek recipes creating unique ethnic combinations when layered with fresh, locally sourced produce. Try Chef Chadwick's rich Wild Mushroom Torchon made with shallot, garlic, brandy, sherry, thyme & almond milk; or barbequed Tofu with spicy sauce, sweet peppers coulis, chanterelle mushrooms, and brussels kraut or the Sea Glass Seasonal Collection which changes daily, sourcing produce from nearby farms.
"Our goal is to excite with a visually appealing dish that continues to impress after the first taste," says Chef Chadwick. "Vegan dishes answer both ethical and health concerns but are also surprising, delectable and completely satisfying."
About Inn by the Sea: Located on Crescent Beach in Cape Elizabeth, the eco luxury Inn by the Sea is just 7 miles from Portland's urban chic small port city, as well as minutes from the renowned Portland Headlight and Winslow Homer studio. With a modern and stylish take on a traditional shingled coastal resort, full service SPA, ocean view dining in Sea Glass restaurant, and private boardwalk to a mile of beach, Inn by the Sea is Maine's premier beach destination. Selected to both Conde Nast's Reader's Choice and Travel & Leisure's 100 Best Hotels in the World in 2016, Inn by the Sea has both LEED® silver and Maine DEP Environmental Leader certifications, and is a Virtuoso® property, and member of Preferred LVX Collection® .
FMI: Rauni Kew, Public Relations Manager, Inn by the Sea, 40 Bowery Beach Road, Cape Elizabeth, Maine 04107. 207. 799. 3134 rkew(at)innbythesea.com http://www.innbythesea.com hi res images available