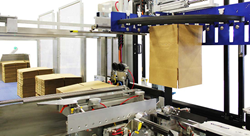 RICHMOND, British Columbia (PRWEB) September 21, 2017
At Pack Expo, Sept. 25-27, Wexxar/BEL, powered by Pro Mach, launches a new generation of automatic case formers and erectors, building upon past successes to achieve higher speeds and throughput, greater ease-of-use, longer run-time between case loading, and increased case size flexibility. Wexxar/BEL's DELTA 1 reinforces their continuation in innovating to improve end-of-line performance and decrease labor. (Wexxar/BEL Pack Expo Booth # C-2827)
"During a two-year research effort, Wexxar/BEL engineers examined every system and component on present generation machines to design a next-generation platform that delivers an improved set of values to our customers," says Sander Smith, product manager for Wexxar/BEL. "Three areas held particular interest: higher speed for greater throughput; simpler operation for minimized downtime; and extended time between loading for lower direct labor. The DELTA 1 achieves all three."
DELTA 1 improves operation performance
The Wexxar DELTA 1 (U.S. Patent Application No. 62/550,085) is rated at 30 cases per minute, with early field tests exceeding these speeds. Contributing to the higher than expected speeds is the DELTA platform's capability of handling small cases and the machine's redesigned case handling mechanics. The DELTA 1 is suited to accommodate small to medium-sized cases, and future DELTA family machines, meant to accommodate larger cases, are soon to follow.
Easier loading, less lifting, and minimized operator interaction with the machine
For improved ergonomics, Wexxar/BEL designed a new modular magazine where operators simply push cases into the loading mechanism, minimizing the need for excessive case lifting. Thus, the intervals between case loading become longer and the labor associated with the case forming process decreases with every modular section added to the magazine. Furthermore, when given the available floor space, intervals between loading operations can extend to 45 minutes or more. Extending the time between loading minimizes the operator's need to interact with the machine. Automatic justification of cases in the magazine also lowers the time operators must interact with the DELTA 1. For environments where cradle-to-grave tracking-and-tracing is essential, the new magazine can accommodate a labeler. Magazine modules can be added at any time in the future to accommodate increases in production.
Faster changeover and lower downtime for improved overall equipment effectiveness (OEE)
Corrugated cases or boxes can be loaded into the magazine while the machine is running, thereby, improving uptime and throughput. Loading while running ensures that a new case size is immediately available following product changeover, a key contributor to high OEE. The DELTA 1 features Wexxar WISE, a comprehensive reimagining of how today's diverse workforce interacts with Wexxar/Bel equipment to achieve optimum OEE. WISE focuses on more intuitive user control, onboard machine tuning, visual indication of alarm locations, on-machine troubleshooting, and in-depth changeover guidelines. To efficiently run different cases and maintain high productivity, the DELTA 1 features quick-change color-coded components and graphic rather than text-based on-machine instructions and labels.
Be sure to stop by the Wexxar/BEL Pack Expo Booth # C-2827 for a demonstration of the company's next-generation case forming/case erecting technology, the DELTA 1. For more information about Wexxar's full line of case erecting and sealing solutions, call 888-565-3219 and visit http://www.wexxar.com.
About Wexxar/BEL
Wexxar/BEL is a leading manufacturer of high quality systems for case forming and sealing for the most demanding packaging operations. Wexxar and BEL products yield the lowest cost of ownership through greater dependability, higher productivity, maximum throughput, and a high standard of safety. Wexxar/BEL is headquartered in Richmond, British Columbia, Canada. For more information, visit http://www.wexxar.com.
About Pro Mach
Pro Mach is a leading provider of integrated packaging and processing products and solutions for food, beverage, consumer goods, pharmaceutical, and other diverse companies. Through multiple brands, Pro Mach provides product packaging and processing equipment, PMMI certified trainers, installation, parts, and service in Bottling & Capping, Primary Packaging, Pharmaceutical Packaging, Flexible Packaging, Material Handling, Labeling & Coding, and End of Line, as well as Integrated Solutions for complete packaging lines.
Pro Mach has a diverse customer base, from Fortune 500 companies to smaller, privately held businesses worldwide, which depends on reliable, flexible, technologically advanced equipment and integrated solutions. Pro Mach is headquartered near Cincinnati, Ohio, with manufacturing facilities and offices throughout the United States, Canada, Mexico, Europe, United Arab Emirates, and China. For more information about Pro Mach, please visit http://www.ProMachInc.com.