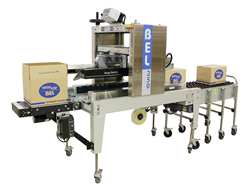 RICHMOND, British Columbia (PRWEB) September 21, 2017
Wexxar/BEL, powered by Pro Mach, introduces at Pack Expo, Sept. 25-27 in Las Vegas, key advancements to its top selling automatic case taping and sealing solutions – the BEL 250 pressure-sensitive taper and the BEL 270 hot melt glue sealer. The upgrades to these 20 case per minute (CPM) machines reduce the complexity and time associated with maintenance, speed up changeover, and simplify operation. (Wexxar/BEL Pack Expo Booth # C-2827)
From hours to minutes to service the folders
The innovative Wexxar/BEL Snap Folder System reduces the footprint of the company's tapers and sealers by eliminating the need for guarding, and it improves worker safety. Prior to this upgrade, servicing this critical system required a series of complex steps that also necessitated machine readjustment at the end of the process. Now, maintenance personnel simply stand next to the BEL 250 or BEL 270, pop off the top, and replace bearings or perform other routine maintenance. Because of this change, the machine is ready to resume taping or sealing within minutes as opposed to what previously could have required hours. "With this and other upgrades to the BEL 250/270 platform, we've made it faster for our customers to go from downtime to uptime and improve taper or sealer utilization," says Sander Smith, Wexxar/BEL product manager.
Simpler operation leads to faster changeover
Wexxar/BEL design engineers performed a comprehensive reimagining of how today's diverse workforce interacts with the company's equipment to achieve optimum throughput. The BEL 250/270 platform now features more intuitive user control, including quick-change color-coded components and graphic rather than text-based on-machine instructions and labels. Based consumer testing, says Smith, "Color coding and quick-change components are foundational for simpler operation."
Greater resistance to wear leads to longer service life
For longer service life and resistance to wear, rugged stainless steel, aluminum, and ultra-high-molecular-weight (UHMW) polyethylene-based parts were incorporated throughout the BEL 250/270 platform, replacing many of the less durable materials such as plated-mild-steel components, which can corrode when scratched.
Summary of key differentiating platform features:

20 CPM
Robust frame for 24/7 operation
Extremely small machine footprint
Innovative Snap Folder System for safe, reliable top flap folding
Centralized, color-coded setup guides
Uni-Drive Belt System which eliminates case skew and ensures cases are squarely sealed
Wexxar/BEL case formers, erectors, and sealers yield a lower cost of ownership through greater dependability, higher productivity, maximum throughput, and a high standard of safety. Be sure to stop by the Wexxar/BEL Pack Expo Booth #C-2827 for machine demonstrations on the BEL 250 automatic case taper and BEL 270 hot melt glue sealer. For more information about Wexxar/BEL's full line of case formers, erectors, and sealers as well as IPak tray formers, call 888-565-3219 and visit http://www.wexxar.com.
About Wexxar/BEL
Wexxar/BEL is a leading manufacturer of high quality systems for case forming and sealing for the most demanding packaging operations. Wexxar and BEL products yield the lowest cost of ownership through greater dependability, higher productivity, maximum throughput, and a high standard of safety. Wexxar/BEL is headquartered in Richmond, British Columbia, Canada. For more information, visit http://www.wexxar.com.
About Pro Mach
Pro Mach is a leading provider of integrated packaging and processing products and solutions for food, beverage, consumer goods, pharmaceutical, and other diverse companies. Through multiple brands, Pro Mach provides product packaging and processing equipment, PMMI certified trainers, installation, parts, and service in Bottling & Capping, Primary Packaging, Pharmaceutical Packaging, Flexible Packaging, Material Handling, Labeling & Coding, and End of Line, as well as Integrated Solutions for complete packaging lines.
Pro Mach has a diverse customer base, from Fortune 500 companies to smaller, privately held businesses worldwide, which depends on reliable, flexible, technologically advanced equipment and integrated solutions. Pro Mach is headquartered near Cincinnati, Ohio, with manufacturing facilities and offices throughout the United States, Canada, Mexico, Europe, United Arab Emirates, and China. For more information about Pro Mach, please visit http://www.ProMachInc.com.