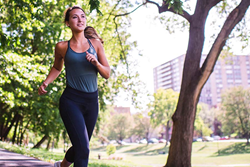 (PRWEB) September 21, 2017
FlipBelt, the fitness brand that specializes in problem solving fitness accessories, has brought their practical designs and attention to detail to the athletic wear market with the launch of their FlipBelt Crops.
The new fitness bottoms feature an integrated FlipBelt fitness belt so wearers can have their essentials securely at their fingertips while at the gym, on the trail, or on-the-go.
"We always thought the FlipBelt could be so much more than an accessory," said company founder Mia Do. "We've paired its practical, multi-purpose design with crops that are so comfortable and flattering you'll want to wear them for everything."
FlipBelt Crops Highlights:
Rear Zipper – A hidden pocket provides easy access to smaller items such as cash and cards.
Front Pockets – Multiple front access points are perfect for storing one's phone, keys, gel, water, and more.
Key Hook – A built-in key hook gives an extra level of security for car and house keys.
Moisture Wicking & Anti-Microbial Fabric – They're built to support and endure the toughest workouts.
Comfortable Design – Flatlock seams and a 4-way stretch cut down on chafing while exercising.
Machine Wash and Dry – An easy care regimen keeps laundry day simple.
Whereas other fitness pants can't handle the larger smart phones hitting the market, the FlipBelt Crops can fit any size phone and keep it bounce free while running.
"Whether you're a biker, a runner, or just someone looking for a convenient and comfortable every day pant, our crops offer the most functionality available," said Do.
The FlipBelt line of workout accessories can be found at REI, Bed Bath & Beyond, 24 Hour Fitness, Scheels, and many other retailers across the nation.
About FlipBelt
Since its launch in 2012, the FlipBelt has become one of the highest rated accessories in the sports and outdoors market. The brand has continued to grow with a series of innovative fitness products including the FlipBelt Hydration Belt, Miiego Wireless Headphones, the Million Mile Light, and now their new FlipBelt Crops.
For samples or additional information, please visit http://www.flipbelt.com or contact Nicki(at)veteranpr(dot)com.