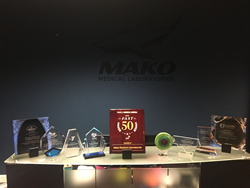 Our employees have spoken--Mako Medical Laboratories ranked as one of the Best Places to work!
Raleigh-Durham North Carolina (PRWEB) September 20, 2017
On Thursday, the Triangle Business Journal named Mako Medical Laboratories as one of the Best Places to Work in the Research Triangle for 2017.
Winners were chosen based on an employee-survey process conducted by Quantum Workplace. Once nominated, a company had to meet a threshold in employee participation--a percentage that varies based upon the size of the company--to be eligible to be honored. The winners will be recognized at an awards luncheon on September 22. The TBJ, will honor the-ranked businesses in several categories, based on size.
"It is an honor to win this award. We have worked really hard to create an amazing culture and environment for our team. The Research Triangle is one of the most competitive regions in the country. To stand out here--means something special," says Chad Price President of MAKO Medical Laboratories.
Mako Medical Laboratories is a high complexity laboratory that performs diagnostic testing for hospitals, physicians, and urgent care facilities around the country. Mako Medical Laboratories is known for its state-of-the-art facilities, use of robotics, innovative cloud/app technology, and its proprietary method development. Mako Medical Laboratories also handles specialized testing typically only found at the Mayo Clinic. Mako's team is comprised of nationally renowned doctors and Ph.D.'s that have extensive experience with method development. Mako Medical laboratories has pioneered efficient and cost effective solutions for health care professionals around the country. Mako Medical Laboratories hires U.S. Military Veterans to operate its logistics fleet and has committed life-saving instrumentation to counties in need. Mako Medical also supports missionaries overseas, partners with local community colleges, and supports over 302 charities.