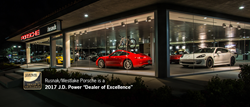 Westlake Village, CA (PRWEB) September 21, 2017
J.D. Power today announced Rusnak/Westlake Porsche as the first California dealership to receive its new Dealer of Excellence (DOE) Award, which distinguishes franchised dealers that have attained the highest levels of sales satisfaction for their brand with a unique crystal trophy, banners, branded business cards and more. Many may want to apply but only about 1 in 10 will ever pass the stringent criteria to be certified under this highly-anticipated market differentiator.
J.D. Power is the authority for recognizing top-performing products and brands. With DOE, the company hopes to help those dealers who have committed themselves to being the 'best of the best' get the market recognition they deserve.
Positive Customer Impact
In blind market studies conducted by J.D. Power, an impressive 83% of new car buyers trust what J.D. Power has to say. Keith Goldberg, GM of Rusnak/Westlake Porsche - one of the highest performing Porsche stores in the country - jumped at the chance to become a Dealer of Excellence, even after qualifying for Porsche's esteemed "Premier Dealer" honor. His new Dealer of Excellence award will enable Goldberg to leverage the fact that at this time, he is the FIRST dealer in California to have qualified after J.D. Power's initial pre-screening and on-site visit.
"Competition to capture customer attention and business has always been a fierce struggle – even more so in the crowded Southern California car market," said Rusnak's Goldberg. "If we can instill even more confidence that our sales and customer satisfaction processes have been recognized and certified by a respected, third party like J.D. Power, I want to take advantage of that fact as much as possible."
Dealer states, "They didn't mess around. I thought it would be a pretty easy process and we would be approved in minutes," said the affable Porsche GM, "but they made us provide our sales tracking numbers, came and met with our staff, checked our website, verified our sales and delivery process – the whole shebang. They took their job seriously and it actually made me feel better knowing that another dealer cannot simply 'buy' their way into the program. They didn't mess around."
Dealer of Excellence Availability
Dealer of Excellence is a completely-new program, driven by dealer feedback and is part of J.D. Power's commitment to help qualified franchised dealers leverage the highly respected J.D. Power name – not to mention the millions of dollars spent by advertisers on touting other J.D. Power awards over the past 30+ years.
Prior to this year, J.D. Power only recognized the efforts and products of OEM's – never on an individual dealer level. Created to give recognition to franchised dealers who have achieved the highest sales satisfaction scores in the industry, the first Dealer of Excellence recognitions were given to Atlantic Chevrolet Cadillac in New York and Hyundai of St Augustine in Florida. Once all feedback and selection criteria processes were worked out, a standardized application process was open to all qualifying dealers in the US just last month. As of this date, there are over 30 applications under process.
"Being able to take advantage of the strength, respect and influence of the J.D. Power name allows my dealer clients to play in the same field as some of the largest corporations on the planet," states Goldberg. "When J.D. Power explained the program, I readily recognized the value and importance of being able to place the J.D. Power name and logo on our websites, business cards and print advertising. By the end of our discussion, I already had several marketing concepts in place."
J.D. Power is a global leader in consumer insights, advisory services and data and analytics. These capabilities enable J.D. Power to help its clients drive customer satisfaction, growth and profitability. Established in 1968, J.D. Power is headquartered in Costa Mesa, Calif., and has offices serving North/South America, Asia Pacific and Europe.
###
J.D. Power and Dealer of Excellence are either registered trademarks or trademarks of J.D. Power in the United States and/or other countries.
The names of actual companies and products mentioned herein may be the trademarks of their respective owners.